TG4 Provincial Championships: Mayo win Connacht Senior Championship
Galway's five-in-a-row hopes were foiled as Mayo defeated them 3-13 to 2-9 to claim their first Connacht Senior Championship title since 2016. Tamara O'Connor, Rachel Kearns, and Sinead Walsh all provided goals.
Elsewhere, Dublin booked their place in the Leinster final with a 3-14 to 0-3 victory over Laois.
Cork forced Kerry to a 2-14 to 2-14 draw in the Munster Senior Championship as Waterford defeated Tipperary 1-9 to 1-7.
After a 2-4 to 1-15 defeat to Armagh, Donegal will have to wait for the outcome of Armagh and Cavan's upcoming match to know if they've made the final.
Women's Premier Division Round 9
Galway United joined Peamount at the top of the table after round 9 of the Women's Premier Division, thanks to a 1-0 win over Treaty United, with Eve Dossen securing the goal.
Eve Dossen's winner earlier today against Treaty United 🎯

What a win for our Senior Womens side! 😍#ItsATribalThing pic.twitter.com/RQkW2MerWQ

— Gaillimh Aontaithe (@GalwayUnitedFC) May 6, 2023
The Shamrock Rovers are close behind in the rankings after storming to a 5-0 win over Cork City.
Elsewhere, the Bohemians defeated the Sligo Rovers 1-0 and DLR Waves lost 0-2 to the Wexford Youths. Shelbourne, now 4th in the league, defeated Athlone Town 1-0.
Kirsten Neuschäfer becomes first woman to win round-the-world sailing race
After 233 days in her yacht Minnehaha, South African Kirsten Neuschäfer became the first woman to win the Golden Globe race, a 30,000 mile solo sailing which competitors sail without the aid of modern technology or satellite navigation.
The 39-year-old is also the first South African to win a round-the-world sailing event. Out of 15 competitors, she was the only woman.
At one point, Neuschäfer diverted from her course to rescue a fellow competitor, Tapio Lehtinen, whose boat had sank.
"We drank a rum together and then we sent him on his merry way... No congratulations needed for the rescue, everyone would do the same for another sailor," said Neuschäfer.
UEFA Women's Nations League Draw
Ireland was drawn into group B1 in league B ahead of the inaugural edition of the Women's Nations League.
Ireland, the top-seeded team in league B, will face Northern Ireland, Hungary, and Albania.
Ireland WNT Manager Vera Pauw said: "Now that we know our opponents for the UEFA Women's Nations League, we can start planning accordingly. But our priority for the next few months will, understandably, will be on preparing for FIFA Women's World Cup 2023."
Greg McWilliams Departs as Irish Rugby Coach after disappointing 6 Nations campaign
The IRFU has confirmed that Greg McWilliams has left his role as Ireland Head Coach "by mutual consent," following Ireland's disappointing Six Nations campaign, in which they failed to win a single game.
Assistant senior coach John McKee is taking on the role in an interim capacity while a new coach is sought.
McWilliams was hired in late 2021 after Ireland's failure to qualify for the World Cup.
The announcement comes during the ongoing controversy over accusations of sexism in the IRFU and its attitude toward women's rugby, renewed by a recent excoriating report from the Daily Telegraph.
Electric Ireland All-Ireland Minor A Camogie Final
Cork claimed their fourth title in five attempts after a 1-13 to 1-10 defeat of Waterford in the latter's first final. Emily O'Donoghue and Erinn Curtin led the way for Cork, finishing with 1-5 and 0-4 respectively. Waterford put up a good fight, led by Maggie Gostl who scored seven points, but it wasn't enough to snatch the victory from Cork.
Hockey Cup Finals Weekend
University of Galway secured the Irish Women's Hockey Cup in a dramatic shoot-out (4-1) after 70 minutes of scoreless hockey against Omagh. However, they were foiled in their pursuit of a double when Portrane defeated them 3-1 in the Irish Women's Hockey challenge, with Sarah Jane Kelly scoring once and Hannah Moynihan twice for Portrane and Ailill Dorman for Galway.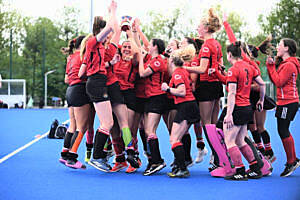 Meanwhile Corinthians defeated UCD 1-0 to retain their Irish Junior Cup title, with Laura Motyer scoring.