For the first time in history, the International Olympic Committee (IOC) commissions for 2022 have an equal number of men and women. The IOC's efforts to increase gender balance at its governance level. The key recommendation of the Olympic Agenda 2020 and its successor, Olympic Agenda 2020+5 was to continue to contribute to the wide goal of fostering gender equality and inclusion throughout the sports movement.
Thomas Bach was elected as the ninth president of the IOC in 2013, and then he got re-elected for another four-year term in March 2021. Bach has been the most progressive president the IOC has ever seen.
There are a total of 576 positions across the IOC committee and now 273 positions are fulfilled by men and 273 positions are fulfilled by women. Since the adoption of the Olympic Agenda 2020 almost eight years ago, this is a substantial increase in female representation.
In 2013, women only accounted for 20 percent of the commission positions. There was a record high in 2020 with 13 of the 31 commissions chaired by women.
Each commission is composed of IOC members and external experts in the field. The IOC commissions play a vital role focusing on specific subject areas and making suggestions to the IOC president, the Executive Board and the IOC Session.
The IOC has announced that as well as the equal gender positions, this year is the first year they have accepted refugee athletes as part of the IOC commissions. Masomah Ali Zada is a cyclist that competed at the 2020 Tokyo Olympic Games as part of the IOC Refugee Olympic Team. She has now been appointed to the IOC Athletics' Commission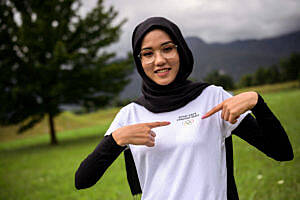 The Olympic Games of 2020 in Tokyo were the most gender equal Games to date with 48 percent of the competitors being women. In 2024, The Paris Olympic Games will have complete gender equality with 50 percent women competitors and 50 percent being male.
There have been several other changes to the IOC commissions to support their strategic goals of the Olympic Agenda 2020+5. Some include combining parts of the Public Affairs and Social Development through Sport Commission and the Sport and Active Society Commission to create a new Olympism 365 Commission as well as renaming the Women in Sport Commission to the Gender Equality, Diversity and Inclusion Commission.