Talent in the Irish Paralympic Team is truly alive and kicking as athletes compete in the World Para Swimming European Championships this week.
Limerick teenager Róisín Ní Ríaín claimed her first medal at a major Para swimming competition on Wednesday evening in Madeira, Portugal.
Highly-rated sixteen-year-old Ní Ríaín claimed a fantastic bronze medal in the S13 100m Backstroke final.
The talented Limerick Swimming Club member finished in a time of 1:09.37 to secure third spot on the podium in the final.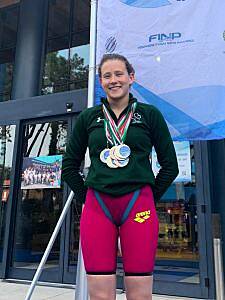 She put on an incredible performance to finish 4.52 seconds ahead of fourth place, and just 3.81 behind second.
In what was her fourth appearance of the week, in her debut at a major competition, Ni Ríaín had come close to podium finish in her two previous races on Day 2 and 3 of the event.
On Tuesday, she shaved 54 seconds of her record to finish fourth place in the SB13 100M Freestyle.
Ní Ríaín made her debut appearance for Team Ireland in a major competition in the S13 100m butterfly final on Monday, where she finished sixth in 1:11.25. It was the first of seven races for the Limerick swimmer this week, who has secured several minimum qualification standard times recently for Tokyo 2020.
It was also a night to remember for Nicole Turner after she claimed the first medal for Ireland on Monday night.
Eighteen-year-old Turner delivered a brilliant display in Madeira, finishing comfortably in third place and earning a well-deserved bronze medal.
She was competing in the SB6 200M Individual Medley and came third with a a time of 3:09.57.
The Portarlington native might have been feeling quietly confident ahead of her podium finish. Earlier on Monday, she finished 20.98 seconds ahead of fourth place. She also an excellent track record in Madeira, winning two silvers and one bronze medal there back in 2016.
Speaking in a post-race interview, Turner felt her competitive desire had been fulfilled.
''With the uncertainty of the past year, to come back to this venue was amazing. We have had national competitions at home but I am a racer, and I like a good competitive race. I get that here and between the girls competing, it was a lot tougher.''
She also spoke about the pride of representing Ireland and what it would mean to the people of Laois.
It's a huge honour. A lot of people see the success, but not behind the scenes. It takes a lot of work for training and races. It is a huge honour to compete for Ireland and I'm sure everyone at home is delighted with me!''.
Bronze for Turner on Day 3 - YouTube
Turner first saw international success early on in 2015 when she won a silver medal in the Youth Category at the British International in the 50m Butterfly – her first meet representing Ireland at a senior level, aged fourteen.
At her first Paralympic Games in 2016, Turner impressively competed in five events qualifying for the final in every one. She succeeded in setting personal best times in six out of her ten races in Rio with her best placing; fifth in the 50m Butterfly.
She has made headlines in recent months as she deferred her final two years of secondary school in order to focus on swimming.
You can learn more about our Her Sport Ambassador Nicole Turner here, as she joined the It's Just Sport Podcast recently.
It's Just Sport: A League of Her Own | Nicole Turner (Ep 16) - YouTube
Ní Ríaín will return to action on Thursday to swim in the S13 50m freestyle.
She will be joined by Turner, who will also compete in the 50m freestyle and the 50M Butterfly race which takes place on Saturday.
Wishing the best of luck to these two athletes and everyone else on Team Ireland this week!