With shocks and immense results in each of the mini segments of the WNL this week the competition lies in an interesting place ahead of the Evoke.ie FAI Cup break.
Athlone Town managed to move off the basement with their win over Treaty United, Shelbourne's victory over Cork proved a double whammy as both Peamount United and Wexford Youths dropped points against each other, and Galway held out Bohemians to a 0-0 draw in Eamon Deacy Park.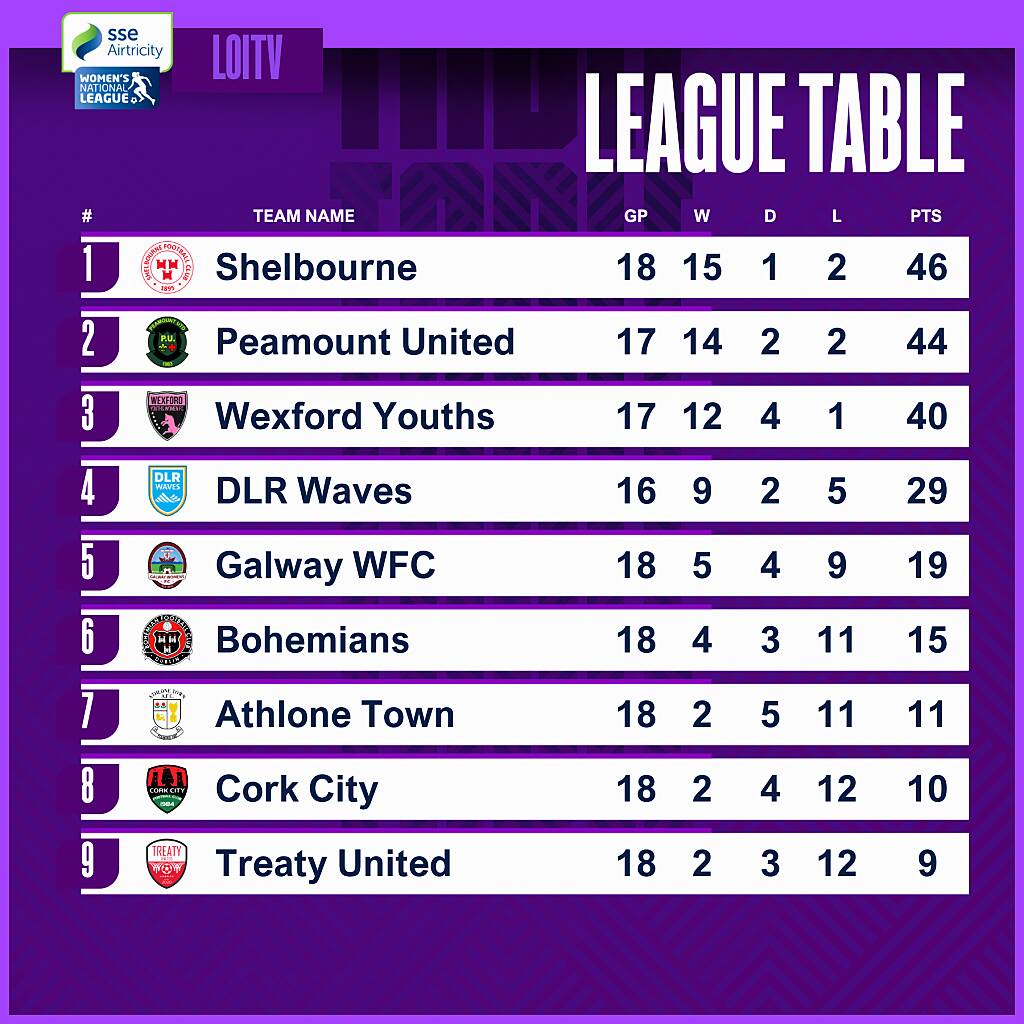 🎥 WNL WRAP | Series 20

🗣 @_alicelinehaan | @acunnane10 | @emma_meyler
🟣 Review of last weekend's games
🟣 Shelbourne filling Jamie Finn slot
🟣 Overall strength of the League
🟣 Panel pick their top Young Players pic.twitter.com/MNMOo05ZrM
— Women's National League (@LoiWomen) August 30, 2021
Athlone Town 2-1 Treaty United
🗣️ FULLTIME!
It's all over here at Athlone Town Stadium. Unfortunately all 3 points are staying in Athlone. As always we are very proud of the superb performance by our Ladies!
Athlone Town AFC 2⃣ - 1⃣ Treaty UTD #TreatyUTD pic.twitter.com/VppoefvU1a

— Treaty United FC (@TreatyUnitedFC) August 28, 2021
The Midlands side picked up just their second win of the season with this 2-1 over Treaty in Lissywollen, nicking the winner with around 15 minutes to go.
Both outfits would have felt hard done by decision wise, keeper Micheala Mitchell only receiving a yellow having brought down Roisin Molloy in an outright opportunity, while Jenna Slattery had a goal ruled out via an earlier handball incident in the play.
Emily Corbet managed to open proceedings before the interval from a spotkick, quickly cancelled out by Gillian Keenan after the break.
The champion on the day however turned out to be substitute Laoise Ó hAodha who got on the end of an Aoife Haran cross to ensure the team leapfrogged two rivals and into seventh place.
⚽️ GOAL | Laoise O'Haodha

Athlone take a late lead, but can they hang on?@AfcAthlone 2-1 @TreatyUnitedFC
Watch the game 👉 https://t.co/sUht8CZ1IG#WNL | #LOITV pic.twitter.com/4qbLjcyKcA
— Women's National League (@LoiWomen) August 28, 2021
Cork City 1-3 Shelbourne
Some extra pictures from todays @CorkCityFCWomen Vs @shelsfc match.
Pics @fitzer_andy pic.twitter.com/JfHAM6vQcn

— THE WNL SHOW (@thewnlshow) August 28, 2021
Emily Whelan, Noelle Murray and Ciara Grant were on target for The Reds in a triumph that may prove instrumental come the end of the season.
Noel King's ladies grabbed the opportunity to get one up on their positional opponents with both hands, Alex Kavanagh playing a big part with her assist quality and Jessie Stapleton making it into the team of the week for her showcase in the back line.
City did get a lone tally on the board thanks to thunderbolt from Nathalie O'Brien, but given The Town's result they found themselves just a point clear of bottom rank.
⚽️ GOAL | @emilywhelan1297

Kavanagh ➡️ Whelan ➡️ Back of the net@CorkCityFCWomen 0-1 @shelsfc #WNL | #LOITV pic.twitter.com/oj0RmkkLbo
— Women's National League (@LoiWomen) August 28, 2021
Galway WFC 0-0 Bohemians
An entertaining and competitive match at Eamonn Deacy Park ends in a scoreless stalemate.
Galway 0 Bohemians 0 pic.twitter.com/6elyrh3TIe

— Bohemian Football Club (@bfcdublin) August 28, 2021
This fifth versus sixth fixture yielded a scoreless draw in what was a battle until the bitter end.
Net minder Courtney Maguire put on a valiant display to keep her side in the game, The Westerners coming close on a few occasions through Chloe Singleton, Meabh DeBurca and Kate Slevin.
A Lisa Murphy injury impeded the away groups chances even further and despite their growth into the game they only went home with a share of the spoils to continue their three match unbeaten streak.
Catch all the action live on https://t.co/4Pg7qoFN54 pic.twitter.com/I0Q0H2diKW

— GalwayWFC (@GalwayWFC) August 28, 2021
Wexford Youths 1-1 Peamount United
⚽️ GOAL | @aoibheannclancy
Clancy converts from the spot to level things in Ferrycarrig Park
You don't want to miss this game! 👉 https://t.co/YoFjlEmfYf@YouthsWomen 1-1 @peamountutd #WNL | #LOITV pic.twitter.com/W969ZIL14m

— Women's National League (@LoiWomen) August 28, 2021
The headliner of the weekend concluded in a 1-1 tie at Ferrycarrig in what was a favourable outcome for Shels as they return to the summit of the table.
Alannah McEvoy and Aoibheann Clancy were surprisingly the only ones to mark the scorecard, both teams lacking that final sparkling touch towards goal.
Wexford were without the creative tendencies of captain Kylie Murphy as she was ruled out through suspension, while Eleanor Ryan Doyle unusually couldn't get things going at the Youths's ground.
The pressure and gravity of the upcoming fixtures is something which is not to alter however as their next league outing is to come against the Tolka Park side who are now in first place. With some cup action to come before hand, the break may allow Peas to rebuild their confidence heading into the business end of the season.
🗣Managers Thoughts | James O'Callaghan talks about tonight's draw with Wexford Youths and looks ahead to the FAI cup quarter final next week🟢⚫️ pic.twitter.com/97tJWMXzgf

— Peamount Utd FC (@peamountutd) August 28, 2021
Next week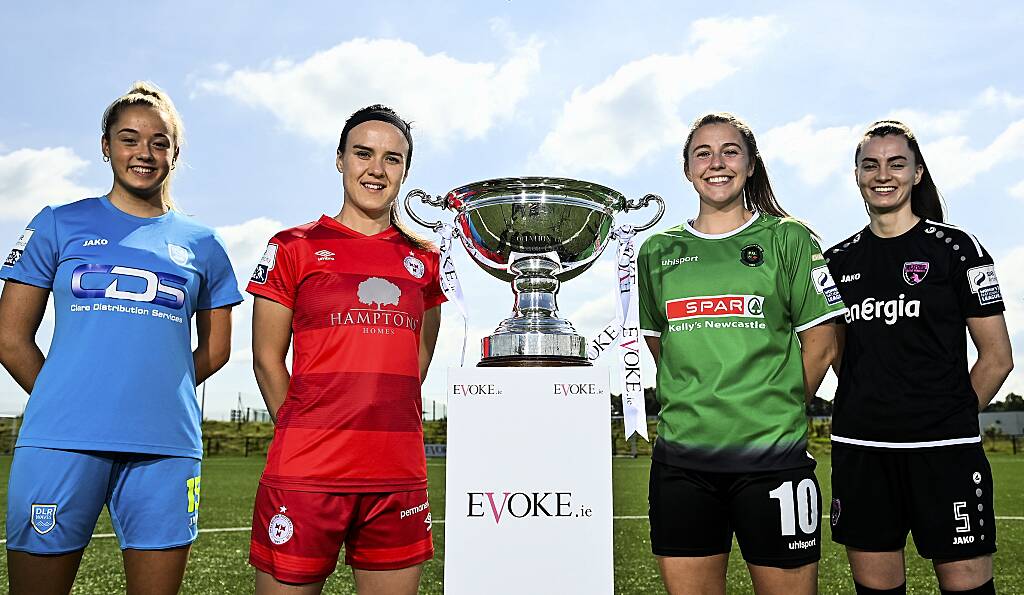 Next week we swap WNL for FAI Cup activity and quarter final clashes before the leagues return for Series 21.
Saturday, September 4
Shelbourne v Cork City, Tolka Park, KO 14:00
Wexford Youths v Athlone Town, Ferrycarrig Park, KO 18:30
Galway WFC v DLR Waves, Eamonn Deacy Park, KO 19:30
Sunday, September 5
Treaty United v Peamount United, Jackman Park, KO 14:00