"We won't go there to lay down and let the Germans walk all over us. If it was (on someone's mind), we wouldn't be here. Vera has put together a squad that has the ability to get a result. You have to believe."
Brighton and Ireland midfielder Megan Connolly is bullish about her sides chances against two-time World champions Germany, in their EURO 2021 qualifier clash on Saturday. The Germans sit second in Group I, one point behind Ireland with a game in hand. Germany have played four, won four, scored 31 goals and conceded none.
Ireland undoubtedly head into the weekend's clash as hefty underdogs, but Connolly believes they can get a result if they stick to the game plan.
"Look at their quality, collectively and individually, their historic results. Realistically they'll have a lot of possession. It will be tough. We'll have to be defensively sound but when we get opportunities with the ball we can we play our game and not just panic when we get it."
"We will have to defensively sound but when we get the opportunities with the ball, can we play our game and not just panic on the ball when we get it."
At this moment in time, under the management of Martina Voss, Germany are widely considered to be the best team in the world right now. Sporting the likes of Leonie Maier, Dzsenifer Marozsan and Alexandra Popp, Germany possess world-class talent all over the pitch.
Ireland have stars of their own and should not be over roared facing the Germans. Seven members of the Irish squad play in the Women's Super League (WSL) which is fast becoming a football powerhouse.
In the past week some of the world's best female footballers have signed for English clubs. Pernille Harder, regarded as one of the world's best players, signed for Chelsea. Alex Morgan, a 2019 World Cup standout player, signed for Tottenham Hotspur. Alex Greenwood and the European footballer of the year Lucy Bronze have signed for Manchester City, after winning the Champions League with Lyon.
OFFICIAL: USWNT star @alexmorgan13 signs for @SpursWomen ????????✨ pic.twitter.com/wTQOUFRQTz

— B/R Football (@brfootball) September 12, 2020
These Irish stars have and will continue to face the worlds best in the WSL and should not be in awe of Germany. Just last weekend, Megan Connolly was one of three Irish stars who helped Brighton hold the star-studded Manchester City side to a nil-all draw.
Connolly, alongside Rianna Jarrett and Brighton's newest recruit and Irish star Denise O'Sullivan can expect Saturday's clash against Germany to have the same pattern of play. Germany like Manchester City will dominate possession. It will be up to Ireland to defend deep and defend well with the midfield closing the half-spaces and using possession efficiently where possible. Jarrett will be expected to run selflessly, hold up the ball where she can and release the pressure on the defence.
"We're bringing a lot of belief in from Saturday. Megan Campbell isn't here sadly so probably a good thing we've nobody from Manchester City!," said Connolly.
"Listen, they dominated, especially in the second-half but we trusted ourselves, knowing the person on the right and on your left is doing the exact same thing."
"Germany are obviously a big force. If we want to play in the Euros we want to compete against these teams and put our mark on the game. We'll probably have more defending to do but we want to get a result.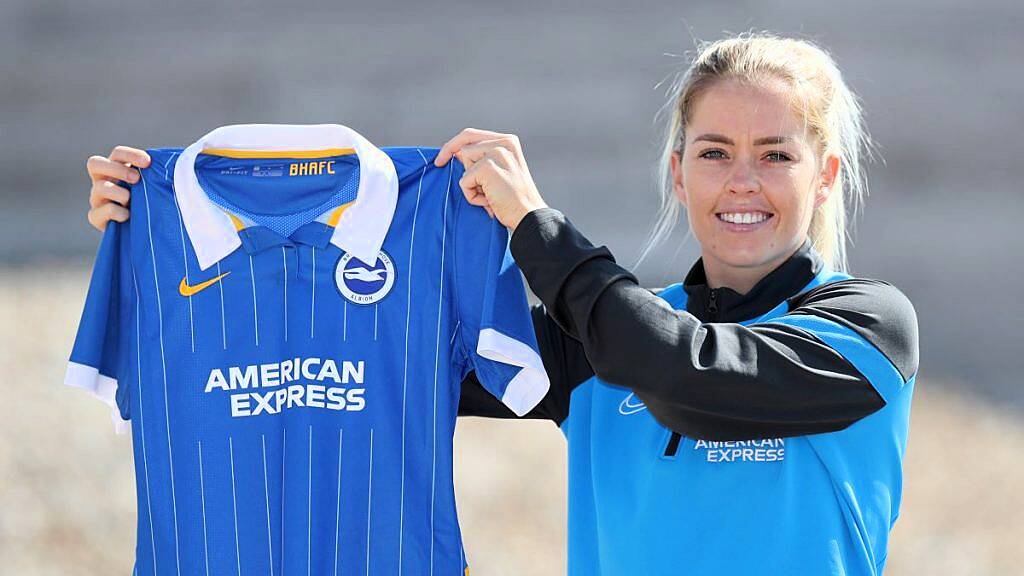 Head coach Vera Pauw could be tempted to start with the Brighton midfield against Germany. Conolly spoke glowingly of O'Sullivan who has made a loan move from US club North Carolina Courage to Brighton, to ensure she was available for the EURO qualifiers.
"It's great for all of us that Denise made the move over," said Connolly. "Even for a short period. For me, it's great to get that personal experience with her. We obviously play a lot internationally in midfield but now it's great at club and it gives Vera an option to pair us there but we have other options."
"She's a player who will never stop running, she is everywhere on the pitch. Yesterday she was in so many positions that saved us, blocked a shot or a pass that helped us. She's someone you can rely on. She will help us a unit and raise our standards, with all the international and club experience. It can help us move up and compete in the rankings.
"I've known her since I was a kid. You can't meet a better person. She'll always have your back and that translates to the pitch. When you mess up, suddenly she's there and makes up for your mistake. She's very consistent, over the years she always performs. In this tournament, she has played a lot. Everyone has a lot of respect for her, wherever you go you will hear that. She is someone you can always rely on to do their best."
Ireland are on track for qualification for their first ever major tournament. In reality, any points secured against the Germans would be a massive bonus but is not make or break for securing qualification. It will be the forthcoming tie against Ukraine which will be more relevant to their fate. That said, Ireland will be looking to put on a performance that provides a measure for how far they have come.
Germany are a relentless machine. Ireland are still building to get to that level. A result on Saturday is a big ask but not impossible. The work on the training ground begins now.
Germany v Republic of Ireland
UEFA 2021 Women's European Championship Qualifying – Group I
Saturday, September 19
Stadion Essen
KO 13:00 (Irish Time)