Peamount United sustained their third win on the bounce this week while Galway's Rachel Kearns edged ahead in the top goal-scorer market as she headed in her 6th of the season in this 4th weekend of WNL action.
Bohemians 0-3 Peamount United
With the deadlock not being broken until the 65th minute, Peamount United VS Bohemians was closer than the score line illudes.
The first half was nip and tuck and Peamount had a goal ruled out in the 35th minute when Sadhbh Doyle was ruled offside and therefore the goal was disallowed, leaving the scoreboard a stalemate heading into the break.
Sean Byrne's Bohs would be quite happy with their performance against the reigning champions before Tiegan Ruddy hit a cross from Dearbhaile Beirne into the back of the net and set the ball rolling for the first of three goals within the next 10 minutes.
Eleanor Ryan Doyle was the next to strike bagging her third goal of the season by curling in a free kick into the top right corner, quickly followed by a Becky Watkins volley to tie the fixture up at 3-0.
Not a bad day out for the Peas with three wins from three secured and two clean sheets for keeper Niamh Reid Burke, as Dora Gorman also put on an impressive display for her first game back in 4 years.
GOAL ⚽️ | @EleanorRdoyle
@bfcdublin 0-2 @peamountutd

Super Substitute curls in a delightful free-kick ⤴️#WNL | #LOITV pic.twitter.com/DiHh6EgKuU
— Women's National League (@FAI_WNL) April 24, 2021
Galway WFC 4-1 Treaty United
The goal-fest of the weekend took place at Eamonn Deacy Park where Galway put four past Treaty and brought themselves to third place in the table.
The opener came 10 minutes in where Lynsey McKey hit the ball on the hop within the box and smashed it towards goal, igniting a fire under Galway who were to put away 3 more goals within the first quarter of an hour of the match.
A Savannah McCarthy header and Shauna Brennan tap in from a few yards made it 3-0, while Rachel Kearns continued her fine form heading in her sixth goal of the year thus far.
The visitors pulled one back in the 75th minute via an Áine Walsh screamer but ultimately Treaty would have been disappointed with their showing and will hope to improve in time for their game VS the champions Peamount next week.
GOAL ⚽️ | Lynsey McKey@GalwayWFC 1-0 @TreatyUnitedFC

Excellent finish from edge of the penalty area ?#WNL | #LOITV pic.twitter.com/OT8MbRAFcx
— Women's National League (@FAI_WNL) April 24, 2021
Cork City 0-1 DLR Waves

Cork City are still yet to score at their new home of Turner's Cross as they were defeated by DLR Waves at the weekend.
Having not picked up a win to date this season they would have been eager to put on a show, but DLR's Jessica Gleeson obliterated their chances with a thunderbolt free kick in the 25th minute.
Speaking after the match Cork manager Ronan Collins reflected on his sides output on the day with ExtraTime.com.
"Defensively we've done a bit of work during the week. I thought we were quite sharp around the box. There was a lot of covering and I thought then when we won the ball there was a really good demand from the defenders to get on it," he said.
"We're disappointed alright with the goal but that's all stuff we can take on and build on for next week."
Set to take on Athlone Town it will certainly be an interesting 7th and 8th place clash to see who will come out on top.
GOAL ⚽️ | @jessgleeson4 @CorkCityFCWomen 0-1 @DLRWaves

What a rocket of a free-kick ?#WNL | #LOITV pic.twitter.com/VaEIt90QuK
— Women's National League (@FAI_WNL) April 24, 2021
Wexford Youths 1-0 Athlone Town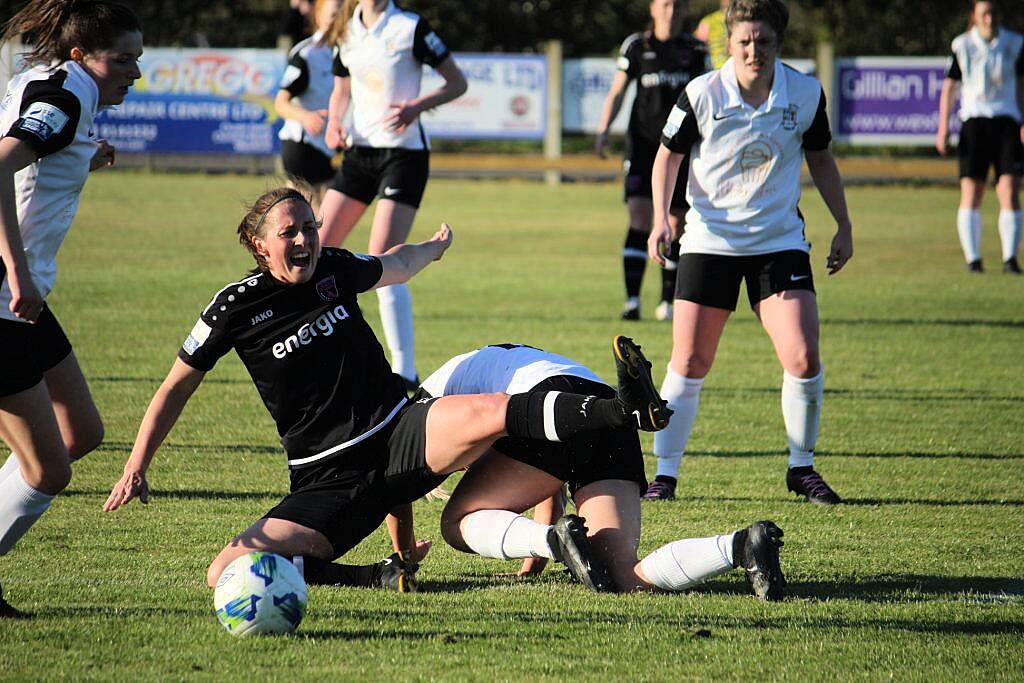 Another tight fixture came about in the form of Wexford Youth's Vs Athlone Town, where a penalty was to be the only difference maker late on.
Athlone having gotten two players sent off (Muireann Devany upon a second yellow and also Fiona Owens) would have been frustrated with the result that was so close for so long, but a converted penalty from Kylie Murphy in the 80th minute saw Wexford go 1-0 up and take second place in the table.
A vital result for the home side keeps them within touching distance of The Peas, making next round's battle VS Galway oh so important this Saturday at 6:30pm.

Next weekend
The fixture's next week are shaping up for good viewing as things in series 5 of the WNL are heating up and are not to be missed!
Next up...#WNL | #LOITV pic.twitter.com/kiTJ3w7WDJ

— Women's National League (@FAI_WNL) April 25, 2021