Teenage football prodigy Ellen Molloy talks her step up to the senior soccer scene, playing for the national team and the reason behind advocating for the free nasal flu vaccine.
Growing up in Kilkenny, soccer was imprinted into Ellen Molloy's blueprint from a young age as she played against her older brother, Shane, in the back garden. Soccer has always been in the family and as a kid, Molloy aspired to be like her footballing obsessed grandad Tony Roche, who himself earned a cap for Ireland at U15 level.
"My grandad actually got a cap for Ireland at U15 level. He died three years ago, and I actually got my first cap at U15 level as well. He was always like 'someday you'll get more caps than me' and so it was definitely always a dream" she says.
At just the tender age of 16, Molloy too dawned the green jersey of her national as she made her senior debut against Ukraine in October of last year. The attacking midfielder came on in the 86th minute in what was ultimately a 1-0 defeat for Ireland, but a fantastic occasion for the up-and-coming Wexford Youths star.
2019➡️U15 International,
2020➡️Senior International, ?, what a journey, and we've plenty more like Ellen Molloy coming through our underage structures. The future is bright?⚽️?? pic.twitter.com/n9DN2HMkSi

— Richard Berkeley (@richiebfootball) October 24, 2020
Reminiscing on the experience, the former Thomastown United player recalls manager Vera Pauw's game plan and belief in the young attacker.
"Vera [Pauw] said on matchday 'if we need a goal with 5 minutes to go this is what we're going to do' and I was on the left wing and then it happened! I think the fact that there was no fans kind of made it a bit better for my debut because If there were all the fans, I would have been a bit overwhelmed" Molloy says.
Crowd sizes are not the only factor Molloy will have to acclimatise too, as she gains more tenacity in correlation with game time minutes and also adjusts to the senior set up.
Last season, Molloy made the step up from the underage set-up to senior football. The biggest change she has noticed is the intensity of the matches and the less time she has on the ball. In the U17's and at Thomastown, Molloy explained that if she made the wrong decision, her footballing ability would make up for it. In the Women's National League, she has to take less touches and more decisive.
The transition to the National team has come with its own trials and tribulations as the budding star explains that she "didn't know what to expect and [she'd] be sitting down with all the players and then just be like 'oh my god Katie McCabe is just over there' and it would just hit me sometimes but as the camps went on and the more I got used to it I got more confident.".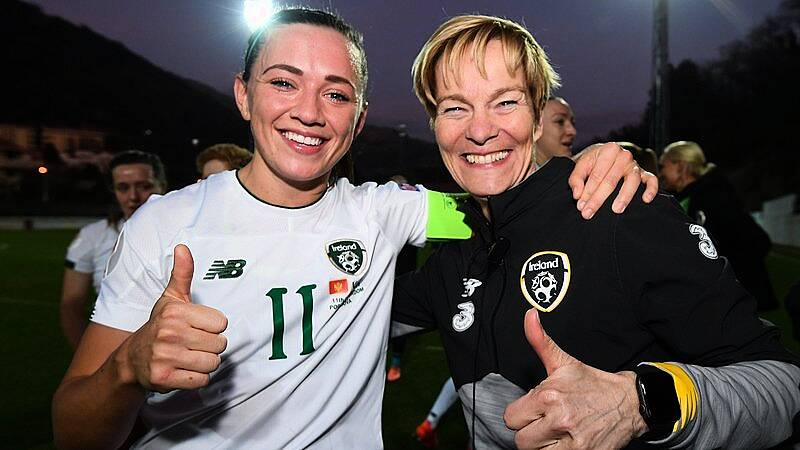 Paving the way both on and off the pitch in her career at the moment Molloy also has noted her support for the children's flu vaccine which she was administered in partnership with the HSE by Dr Eleanor Galvin in Cabinteely Park Dublin.
Speaking at the event she described how she "didn't feel a thing" as "it's just a quick spray up each nostril" and encouraged other children and teenagers to follow suit and consider getting the vaccine to protect themselves and others.
With Covid-19 altering many people's lives the 16-year-old exemplifies the importance of the vaccine as "when you get small symptoms now you have to get tested and at least if you get the flu vaccine you know its not the flu".
Molloy's own thoughts on lockdown 1.0 can be simplified down to one word: "frustrating", as she too was confined to solo exercise and Zoom calls during the first introduction of restrictions.
With subsequent regulations including the all-important distinguishment for "elite athletes" the Wexford Youths footballer is relieved that she was able to continue training.
"The second and third lockdowns didn't really feel much of a lockdown because I still had school and I was still traveling outside of the county to play football and I had games at the weekend. Whereas my friends'…. all of their stuff was cancelled because they weren't classified as like elite. So yeah, that was definitely like good" she says.
With all the uncertainty surrounding forthcoming fixtures one thing is for sure; Ellen Molloy is one to watch in the Irish footballing world.
Watch the full interview below!
Subscribe to Her Sport's YouTube channel for more videos, follow us on Instagram, like us on Facebook or follow us on Twitter for the latest sporting news and content.