Arsenal booked their ticket to the group stages of the Champions League with a 1-0 win away over Ajax last night (3-2 over aggregate).
It was a match not without incident however.
During the pre-match warm up, speculation led to the ground staff making altercations to the goalposts after it was discovered to be 10 centimeters too small. Jonas Eidevall, Arsenal's head coach, explained how he has never experienced anything like this before. 'It's been a very weird experience coming here, a big club like Ajax but we had to measure the goals before the game, and it turned out the goals were too small by 10 centimeters.'
Staff brought out a ladder and had to change the height of the goal frame before kick-off after Arsenal officials made it known that it was 10 centimeters too short. The crossbar was measured again at halftime.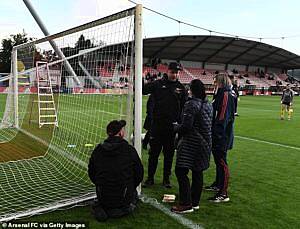 Despite the early confusion, the Gunners showed their class and took the lead after the Netherlands' Vivianne Miedema opened the scoring in Amsterdam which Arsenal held on to.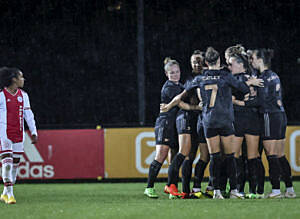 There was final controversy as the game drew to a close. Arsenal were denied a concussion substitute for Beth Mead, after she suffered a concussion during the last few minutes of the game. Eidewall went on to explain how the Champions League is too harsh on penalising head injuries because it can impact you the rest of your life. He was also fureious and shocked that there was no red card given by the carelessness of the challenge which put Mead at a real risk.
The coaches were preparing Lina Hurtig to go on as a substitute after an official told the coaching staff that it was okay, and then after a few minutes when she was ready to go on, Eidewall was told he couldn't do that. Arsenal had already made their subsititutions in the allocated three slots.
"I think UEFA removed the concussion sub, they still have the concussion protocol which means the doctor takes the decision. There's no doubt that Beth needs to be taken off. The problem that I have, and if that's lost in translation, is that I asked the fourth official if we can do a concussion sub and she said yes, and that's why we are preparing Lina, and then when we are going to do it she says no. We had that break for two-three minutes and we could have spent a lot of that time speaking to the players on how we would have defended with 10 players."
Really hope we never get to play Ajax again any time soon. pic.twitter.com/57d3G4kFQm

— AWFCLIPS (@awfclips) September 28, 2022