The ninth FIFA Women's World Cup will be held in New Zealand and Australia next summer. This is the first time the 64-fixture match schedule will be played in two host countries.
The tournament will be played across nine cities. The first match will take place on July 20th, 2023, at Eden Park in New Zealand, while the closing match will be held in Sydney, Australia one month later on August 20th.
The quarter finals are split equally between the hosts, as well as the semi-finals. Each country will host one semi-final each, while the match for third place will take place in Brisbane, Australia.
The Republic of Ireland is in Group B and will play their first game on July 20th against Australia at the Sydney Football Stadium. Their second game will be played on July 31st against Nigeria in Lang Park, Brisbane.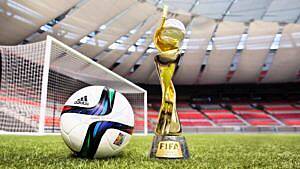 Group A schedule
July 20: New Zealand vs Norway – Eden Park, Auckland
July 21: Philippines vs Switzerland – Forsyth Barr Stadium, Dunedin
July 25: New Zealand vs Philippines – Wellington Regional Stadium, Wellington
July 25: Switzerland vs Norway – Waikato Stadium, Hamilton
July 30: Switzerland vs New Zealand – Forsyth Barr Stadium, Dunedin
July 30: Norway vs Philippines – Eden Park, Auckland
Group B schedule
July 20: Australia vs Republic of Ireland – Sydney Football Stadium, Sydney
July 21: Melbourne Rectangular Stadium, Melbourne
July 26: Canada vs Republic of Ireland – Perth Rectangular Stadium, Perth
July 27: Australia vs Nigeria – Lang Park, Brisbane
July 31: Canada vs Australia – Melbourne Rectangular Stadium, Melbourne
July 31: Republic of Ireland vs Nigeria – Lang Park, Brisbane
Group C schedule
July 21: Spain vs Costa Rica – Wellington Regional Stadium, Wellington
July 22: Zambia vs Japan – Waikato Stadium, Hamilton
July 26: Spain vs Zambia – Eden Park, Auckland
July 26: Japan vs Costa Rica – Forsyth Barr Stadium, Dunedin
July 31: Japan vs Spain – Wellington Region Stadium, Wellington
July 31: Costa Rica vs Zambia – Waikato Stadium, Hamilton
Group D schedule
July 22: England vs Playoff B winners – Lang Park, Brisbane
July 22: Denmark vs China – Perth Rectangular Stadium, Perth
July 26: England vs Denmark – Sydney Football Stadium, Sydney
July 28: China vs Playoff B winners – Hindmarsh Stadium, Adelaide
August 1: China vs England – Hindmarsh Stadium, Adelaide
August 1: Playoff B winners vs Denmark – Perth Rectangular Stadium, Perth
Group E schedule
July 22: USWNT vs Vietnam – Eden Park, Auckland
July 23: Netherlands vs Playoff A winners – Forsyth Barr Stadium, Dunedin
July 27: USWNT vs Netherlands – Wellington Regional Stadium, Wellington
July 27: Playoff A winners vs Vietnam – Waikato Stadium, Hamilton
August 1: Playoff A winners vs USWNT – Eden Park, Auckland
August 1: Vietnam vs Netherlands – Forsyth Barr Stadium, Dunedin
Group F schedule
July 22: France vs Jamaica – Sydney Football Stadium, Sydney
July 24: Brazil vs Playoff C winners – Hindmarsh Stadium, Adelaide
July 29: France vs Brazil – Lang Park, Brisbane
July 29: Playoff C winners vs Jamaica – Perth Rectangular Stadium, Perth
August 2: Playoff C winners vs France – Sydney Football Stadium, Sydney
August 2: Jamaica vs Brazil – Melbourne Rectangular Stadium, Melbourne
Group G schedule
July 23: Sweden vs South Africa – Wellington Regional Stadium, Wellington
July 24: Italy vs Argentina – Eden Park, Auckland
July 28: Argentina vs South Africa – Forsyth Barr Stadium, Dunedin
July 29: Sweden vs Italy – Wellington Regional Stadium, Wellington
August 2: Argentina vs Sweden – Waikato Stadium, Hamilton
August 2: South Africa vs Italy – Wellington Regional Stadium, Wellington
Group H schedule
July 24: Germany vs Morocco – Melbourne Rectangular Stadium, Melbourne
July 25: Colombia vs South Korea – Sydney Football Stadium, Sydney
July 30: Germany vs Colombia – Sydney Football Stadium, Sydney
July 30: South Korea vs Morocco – Hindmarsh Stadium, Adelaide
August 3: South Korea vs Germany – Lang Park, Brisbane
August 3: Morocco vs Colombia – Perth Rectangular Stadium
Knockout round schedule
Match 49 – August 5; Winner Group A vs Runner up Group C – Eden Park, Auckland
Match 50 – August 5; Winner Group C vs Runner up Group A – Wellington Regional Stadium, Wellington
Match 51 – August 6; Winner Group E vs Runner up Group G – Sydney Football Stadium, Sydney
Match 52 – August 6; Winner Group G vs Runner up Group E – Melbourne Rectangular Stadium, Melbourne
Match 53 – August 7; Winner Group B vs Runner up Group D – Stadium Australia, Sydney
Match 54 – August 7; Winner Group D vs Runner up Group B – Lang Park, Brisbane
Match 55 – August 8; Winner Group F vs Runner up Group H – Hindmarsh Stadium, Adelaide
Match 56 – August 8; Winner Group H vs Runner up Group F – Melbourne Rectangular Stadium, Melbourne
Quarterfinals
Match 57 – Winner Match 49 vs Winner Match 51 – Wellington Regional Stadium, Wellington
Match 58 – Winner Match 50 vs Winner Match 52 – Eden Park, Auckland
Match 59 – Winner Match 53 vs Winner Match 55 – Lang Park, Brisbane
Match 60 – Winner Match 54 vs Winner Match 56 – Stadium Australia, Sydney
Semifinals
Match 61 – Winner Match 57 vs Winner Match 58 – Eden Park, Auckland
Match 62 – Winners Match 59 vs Winner Match 60 – Stadium Australia, Sydney
Third place playoff
Match 63 – Loser Match 61 vs Loser Match 62 – Lang Park, Brisbane
Final
Match 64 – Winner Match 61 vs Winner Match 62 – Sydney Australia, Sydney