The Six Nation's kick's off this weekend and what better way to immerse yourself in all the action by joining the Her Sport Six Nations Fantasy Rugby League.
With the league now open and a lot of players to choose from, here at Her Sport we thought we would provide you with the inside track on a fast-lane to the top of your fantasy league!
Identifying some key positions, try scoring suspects and some up and coming players to keep an eye on, here are our top tips as well as some advice from the professionals themselves.
Game Plan
Kickers That Catch Your Eye
When pinpointing some crucial point earners one would have to begin with the kickers.
Now a major part of the rugby game it's a huge advantage to any fantasy team to include players who can add points both over the post and at the try line.
While the first protocol is to examine prolific fly-halfs, it's also worth looking at others who contribute to the score line in this way such as Emily Scarlett, Zoe Harrison or Jessy Tremouliere. These players are worth their weight in gold as the rules and points system rewards kickers with extra points!
Versatility Is Vital
Players that are known to excel in multiple positions bring much more opportunities for point scoring when it comes to fantasy rugby.
Beyond the fact that they are more likely to start as a result of their adaptability and capacity to slot into a team, players like Leah Lyons who gets minutes under her belt at both hooker and prop are more likely to yield rewards in comparison to those who are not as multi-faceted in their ways.
Captain Fantastic
With the captain position reaping double points in comparison to other players on the pitch this position is vital to your success so do think carefully when appointing your leader!
Emily Scarratt (England's record point scorer) would be an ideal pick and the most popular choice in the game due to her undeniable talent and work rate. Other players like would Chloe Rollie and Elinor Snowsill would be interesting picks if you want to go away from the norm!
First Names On The Team Sheet
Ireland
More good experiences for Claire Molloy at Energia Park this weekend ?

Molloy marked her 70th cap with a performance that not only won @IrishRugby the game, but also crowned her player of the match ?#WomensSixNations pic.twitter.com/BpNopZOKVc
— Women's Six Nations (@Womens6Nations) October 26, 2020
Claire Molloy picked up a player of the match award against Italy upon her return from her medical exam sabbatical towards the end of last year and her pace and ability to pick out gaps is not to be ignored when it comes to considering a fantasy team.
A hard worker and someone who makes a lot of ground, the flanker is going to bring experience to this young Irish side and hopefully will them on to victory!
Beibhinn Parsons is another superstar in the making and judging from last year's performances, the speedster is likely to pick up plenty of points in this year's fantasy rugby. Another little diamond will be Linda Djougang who is an exceptional all-rounder and with all her work with and without the ball - is likely to rack up the points. Finally if you're looking for a little outsider pick, Amee-Leigh Murphy Crowe has been included in the Irish squad. Whether she starts from the beginning remains to be seen but the fleet-footed Seven's player has made the move to 15's and with a record of 98 tries in 131 World Sevens Series matches, it could be a smart investment!
2020 Six Nations Top Players Statistically By Country:
Tackles Made
Dorothy Wall (51 Tackles)
Linda Djougang (49 Tackles)
Sene Naoupu (49 Tackles)
Dominant Tackles
Dorothy Wall (6 Tackles)
Linda Djougang (5 Tackles)
Ciara Griffin (4 Tackles)
Running Metres
Beibhinn Parsons (323m)
Sene Naoupu (290m)
Linda Djougang (252m)
England

Harlequins' Winger Jessica Breach too is known for her rapid acceleration and try scoring prowess when it comes to England's back line.
The 23 year old scored six tries on her debut against Canada in 2017 and was sizable factor in England's back to back Six Nations win last year.
England have a side full of stars and potential points scorers. Other players who will be in a lot of squads are Emily Scarratt, Poppy Cleall, Lark Davies and Zoe Aldcroft.
Tackles Made
Sarah Beckett(59 Tackles)
LiZo Aldcroft (58 Tackles)
Poppy Cleall (52 Tackles)
Dominant Tackles
Poppy Cleall (4 Tackles)
Sarah Beckett (4 Tackles)
Running Metres
Sarah Bern (360m)
Emily Scarratt (359m)
Sarah Beckett (331m)
Italy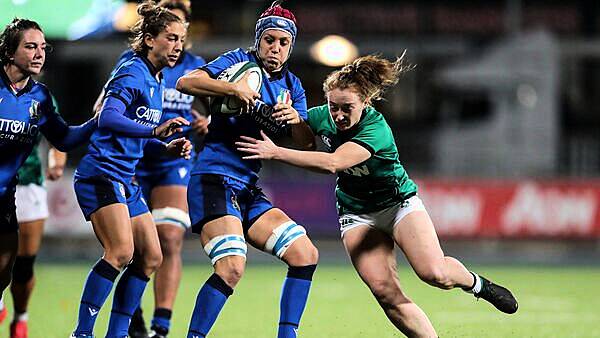 Elisa Giordano and Michela Sillari were remarkable in the breakdown for Italy in the 2020 championship as they triumphed in the turnover bracket.
With Giordano claiming seven and Sillari notching in five to their names in last year's competition they are definitely two back rows that would be an addition to any side.
Italy's captain, Manuela Furlan, has been a stalwart for her side and holds the Italy's record for most tries scored. Watch out for Girodana Duca as well, the powerful forward has an eye for the try line and isn't afraid to carry the ball.
Tackles Made
Michela Sillari (60 Tackles)
Elisa Giordano (54 Tackles)
Giada Franco (52 Tackles)
Dominant Tackles
Sarah Tounesi (5 Tackles)
Elisa Giordano (5 Tackles)
Beatrice Rigoni (4 Tackles)
Running Metres
Giada Franco (258m)
Vittoria Ostuni Minuzzi (212m)
Sara Barattin (183m)
Scotland
Scotland open the scoring! ?

Megan Gaffney breaks down the wing, Lisa Thomson sprints into space and it's Hannah Smith who finishes a fantastic team try to start the game! #AsOne
Here is how to watch the action ?
➡️ https://t.co/jr3kbcQivp
➡️ https://t.co/kNWaNrsJxl pic.twitter.com/dFf8b3gdTk
— Scottish Rugby (@Scotlandteam) April 15, 2020
Captain for her side in 2018/19 season at just 21, Lisa Thomson's leadership qualities are in tune with her expertise on the pitch.
This Centre is an integral part of the Scottish side and working in conjunction with teammates such as Chloe Rollie to pose threats to opponents. Another interesting pick could be Scotland's captain marvel, Rachel Malcolm. The skipper has helped Scotland play some of their best rugby in recent years.
Tackles Made
Rachel Malcom (39 Tackles)
Helen Nelson (36 Tackles)
Sarah Bonar (36 Tackles)
Dominant Tackles
1. Sarah Bonar (3 Tackles)
2. Emma Wassell (2 Tackles)
3. Jade Konkel (2 Tackles)
Running Metres
Siwan Lillicrap (175m)
Kerin Lake (141m)
Alisha Butchers (142m)
France
Cyrielle Banet with a try worthy of winning any match ?

But will it be enough for France today? England will hope not...
Follow #ENGvFRA live here: https://t.co/Qn3e3dy9Ub#bbcrugby #RedRoses pic.twitter.com/mN7M0hRCx9
— BBC Sport (@BBCSport) November 21, 2020
Cyrielle Banet is another great Winger who is likely to present you points in the form of tries.
Securing four for France in last year's Six Nations the Montpellier player is a fantastic choice for capitalising on those essential metres gained as just last year she famously ran the length of the pitch to touchdown 5 points for her side. If you're looking for a consistent robust player, Safi N'Diaye has been doing it on the big stage for years. The 32-year-old has 76 caps and has been named in the Dream Team year after year.
Tackles Made
Safi N'Diaye (52 Tackles)
Agathe Sochat (46 Tackles)
Jessy Tremouliere (42 Tackles)
Dominant Tackles
Julie Annery (11 Tackles)
Safi N'Diaye (9 Tackles)
Celine Ferer (8 Tackles)
Running Metres
Cyrielle Banet (384m)
Marine Menager (331m)
Jessy Tremouliere (303m)
Wales

Siwan Lillicrap rakes in the tackles in the back row and is a workhorse when it comes to captaining Wales.
Making a total of 69 tackles in last year's competition she is imperative to stacking individual player action points and rising up the ranks. Welsh winger Jasmin Joyce is another popular choice in this Welsh team. The sevens and fifteens Wales international is known for her sublime finishing and has been tearing it up for her club in Bristol so far.
Tackles Made
Siwan Lillicrap (71 Tackles)
Alisha Butchers (68 Tackles)
Kerin Lake (66 Tackles)
Dominant Tackles
Beth Lewis (6 Tackles)
Kesley Jones (6 Tackles)
Kerin Lake (5 Tackles)
Running Metres
Cyrielle Banet (384m)
Marine Menager (331m)
Jessy Tremouliere (303m)
What The Captains Think
The captains of the respective Six Nations teams had their say on the ones to watch at the launch of this championship during the week. Keeping fantasy rugby league in mind they chimed in as to who they think everyone should have on their teams!
Sarah Hunter (England):
"Emily Scarratt - she tackles, kicks, scores tries and makes metres. I would captain her too!"
Manuela Furlan (Italy):
"Sara Barattin"
Ciara Griffin (Ireland):
"Beibhinn Parsons"
Rachel Malcolm (Scotland):
"Lisa Thompson"
Siwan Lillicrap (Wales):
"Jasmine Joyce"
Gaelle Hermet (France):
"Laura Sansus"
While Ireland are not set to play until next weekend be sure and take a look at the rules and enter our Her Sport fantasy league to be in with a chance to win prizes. For this week place the focus with those who are playing in the following matches at the weekend. Good luck!
April 3rd
3pm: England Vs Scotland
8pm: France Vs Wales
If you want to join the Her Sport League, it's €5 entry and all the funds will go to some brilliant prizes! We will send you the code via email once you join!
Best of luck and most importantly, have fun!
[give_form id="25858"]