With 70 caps to her name, rugby star Claire Molloy is one of the most experienced Irish women's national team players of all time, while also working as an A and E doctor in Wales and once upon a time having dawned the maroon and white of Galway LGFA.
Following a sabbatical to focus on her medical career the year prior, Molloy returned to the green shirt in October of 2020 to kit out for Ireland in their postponed Six Nations games.
"I was getting a bit burned out" she says.
"With Ireland I think I needed to hit refresh because I'd just been going at it a long time and it really served that purpose as well for my own mental wellbeing just to have a break from it, step back and see where I was with rugby."
While attending an Irish match in her furlough, the two time Six Nations champion and 2013 Grand-Slam winner sat in the stands with friends as opposed to on the pitch, facing natural fears of self-doubt and questioning her own abilities.
"It kind of felt like, gosh, would I be able to be out there? Would I get picked? Would I be good enough?" she asked herself at the time, but ultimately her yearning to return to the Irish set up saw her worries fall by the wayside.
Any doubt she or anyone else may have had in her comeback was obliterated from the minute she stepped back on the pitch, earning the player of the match award for her stunning performance and exceptional try Vs Italy.
While her decision to take a break from the back row of international rugby was by choice, being front-line in a global pandemic came out of the blue by any stretch.
"You step back and have a look at it now and you kind of go 'Oh wow, that happened'. But as you're going you don't see that" she says.
"There was a real camaraderie in it between the nurses, staff and doctors, alike…I suppose as the second wave and third wave have come you can see that people are kind of fatigued and tired. Everyone is just trying to get through and the little things like having a bit of craic with your colleagues is just so important."
Getting the chance to do some paediatric shifts during the Covid-19 pandemic, the Wasp's player turned doctor channelled her creative flair while studying for exams to give some structure to her day, taking to Twitter with her original revision doodles.
Daily Doodles out ! #61andout
Exam✅

Would love to hear which were people's favourite doodles?
My favourites are dailydoodle#41 ? #44? and #60?

✏?✒#intermediatedoodles #FOAMed #flashcard
2/2 pic.twitter.com/Mgxc8VO1g9

— Claire molloy (@claire_mol) March 4, 2020
"I'd kind had a big gap [since previous exams] and just kind of remembering how to revise was the thing. I'd always have used notebooks, written notes and I've always drawn silly little pictures. And then it just kind of came to me. So what if I did a picture?" she says.
"It kind of took off and then it became like, 'Oh God, it's like a job to do every day'… but no, it was fun!"
In her own childhood Molloy had played Gaelic football and soccer in primary school, even continuing on and taking to the field for Galway Vs Cork in their League final of 2005. It was only when she had moved to Wales to pursue her medical career that she swapped the O'Neills ball for an oval and started playing rugby.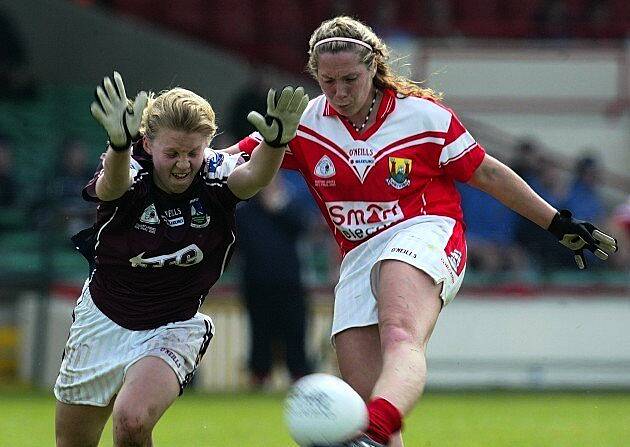 While professionalism in the women's game has come on leaps and bounds since then, female participation figures in the game are still 40% less than that of male counterparts, according to a 2018 study conducted by World Rugby.
Molloy believes change to statistics such as this has to "come from the ground up" as the structures in the underage set up of the boys teams in comparison to the girls are "years ahead of the women's game".
With a lot of hype as to who will make the men's team in recent weeks, evidentially what is also lacking is a women's Lions team to parallel.
"I think we've already seen that the Irish players, Welsh players and the Scottish players can all come together to play over in the Prem 15s. We've seen lions combinations in action already between Scottish centres playing with English centres. So I think getting that kind of mixture of players to play together week in week out at club level would be great" she says.
Brands such as Royal London are currently undergoing feasibility studies into the possibility, but for now Molloy is of the opinion that matches such as Harlequins Vs Leinster in December 2019 are "landmark occasions" that will make The Lions a realistic proposition.
For now though, the hypothetical British and Irish Lions (England, Scotland, Wales and Ireland) will face off against each other along with France and Italy in the upcoming Six Nations which kicks off this weekend.
Although Ireland aren't involved until April the 10th , Molloy is optimistic about her side's opportunities in this tournament.
"The standard of the Irish team has improved big time. There's been a huge amount of competition for places and I didn't envy Adam Griggs having to pick the 35, that let alone to pick a 23 player squad" she says.
"I think it's an exciting time to challenge us, to see what we've brought in from all that time together, the physicality, that brutality in our internal matches that we've really put out against each other, to put that against us as a unit against a Welsh team, a French team, and then sure hopefully an English team at the end will be great."