In 2016, at the Rio Olympics, Rowing Ireland had three boats competing at the Games. Sanita Puspure in the single-scull, Gary and Paul O'Donovan in the men's lightweight double sculls and Sinéad Lynch and Claire Lambe in the women's lightweight doubles.
Fast forward five years and the number of boats heading to the Tokyo Olympic Games for Ireland has doubled. After this weekend, there will be two more boats heading to the Olympics this summer, taking the total number of crews to SIX.
It's been a remarkable upward trajectory for Ireland's Women's Four. In October 2020, the then young and new crew of Aifric Keogh, Eimear Lambe, Aileen Crowley and Fiona Murtagh bagged bronze in their first A final as a crew, at the European Rowing Championships. Just a few months later, this time with Emily Hegarty in the boat, the crew picked up silver at the European Championships in Italy.
Now, the crew have accomplished what they desperately craved, Olympic qualification. The crew of Fiona Murtagh, Eimear Lambe, Aifric Keogh and Emily Hegarty delivered another superb performance to secure their ticket to Tokyo. A finished time of 06:31.99, in a dominant display showed exactly why they were huge favourites as they stormed across the finish line first and sealed one of the two Olympic spots available.
Eimear Lambe, is now likely to join her sister Claire Lambe, as an Olympian.
The former UCD and Commercial rower spoke about the joy and relief felt by the team after the race, saying it was waiting to happen for a while now.
"We're absolutely relieved. It's been a long time coming. Although on paper we were probably one of the favourites, anything can happen on the water. We are so happy.'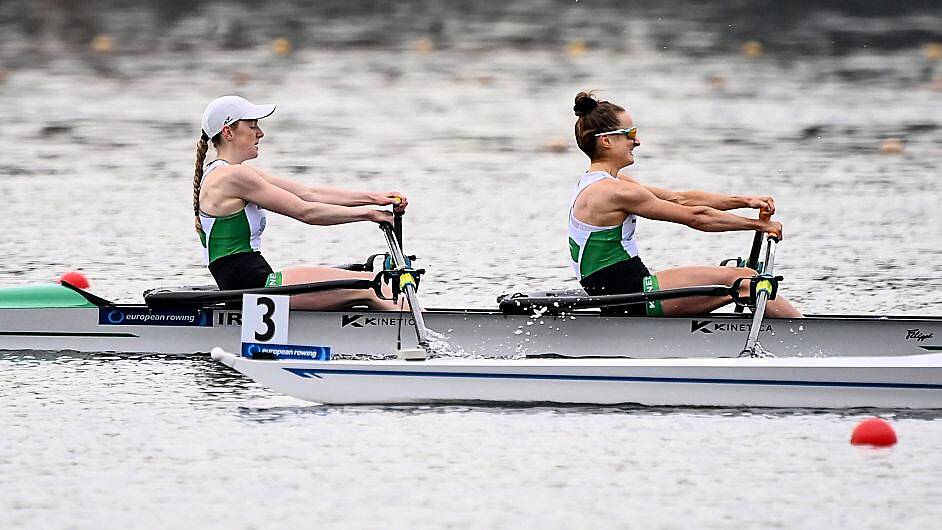 While the Women's Four were favourites to secure an Olympic place, it was very much anyone's game in the Lightweight Women's Double event.
On Sunday morning, the Irish crew of Aoife Casey and Margaret Cremen finished second in their semi-final to qualify for the A final.
The final was brought forward one day as there was bad weather forecast for Monday. Needing a top-three finish to book their ticket to Tokyo, the crew showed incredible fight and determination to catch the Chinese boat in the final 600 meters and take that last Olympic Spot.
Casey and Cremen finished with a time of 07:09.22. It's a testament to the two athletes who have certainly made the most of the extra year afforded to them as they continue to improve and cement themselves as ones to watch on the world stage.
Despite their tender age, this has been years in the making for the Skibbereen/Lee crew. Back in 2017, Casey and Cremen took a silver medal at the European Junior Rowing Championships. They also picked up silver in the lightweight women's double at the 2020 European U23 Rowing Championships while they also raced at the senior Europeans last year.
Speaking after the race, Casey said it felt like a true demonstration of hard work.
"It's so surreal because I feel like we've worked so hard the past two to three years. We came in as underdogs. It just shows what you can do. We came from behind and all we wanted to do was do our best and we are so happy.''
Two other Irish boats, featuring Sanita Puspure (Women's Single), Aileen Crowley and Monika Dukarska (Women's Pair), have already qualified for Tokyo through their successes at the 2019 World Championships.
It's an exciting time for Irish rowing with more crews in action at World Cup II this weekend including:
Pair: Aileen Crowley, Monika Dukarska
Pair: Claire Feerick, Tara Hanlon
Single: Sanita Puspure
Lightweight Single: Lydia Heaphy
Wishing all crews best of luck for Team Ireland!