Three medals were won by Irish Crews at the World Rowing Cup II this weekend, continuing the phenomenal success for Irish Rowing.
The feel-good factor was definitely there for all to see in Lucerne as Lydia Heaphy, Monika Dukarska and Aileen Crowley won Silver while European and World champion, Sanita Puspure, won Bronze.
Aileen Crowley and Monika Dukarska raced in the Women's Pair A Final, resulting in a time of 07.22.17 for second place. Crowley and Dukarska's efforts saw them take second place in the final 200 metres, earning their place on the podium with a silver medal.
They continued their winning form, despite facing tough competition from Spain and Romania.
Romania led from early on and were challenged by Spain, who soon took up the lead. In the closing 1000m, Dukarska and Crowley began to make their move, moving up to third and challenging a tiring Romania.
In a thrilling dash to the line, the Irish pair powered over the line to clinch silver, with Romania in third. The next time this crew will race will be at the Tokyo Olympic games, having secured qualification at the at the 2019 World Rowing Championships.
World Cup II in Lucerne ?‍♀️

We made it onto the podium ?
I like it here! ??@WorldRowing #worldrowing #rowing #rowingireland #racing #Tokyo2020 #TeamIreland #Lucerne #LakeOfGods #Kerry #SportIreland #WomenInSport pic.twitter.com/CWrrEPzF5u

— Monika Dukarska (@MDukarska) May 24, 2021
Tara Hanlon and Claire Feerick also competed in the Women's Pair final after qualifying with a time of 7:40.73. The pair finished 5th in the final.
Lydia Heaphy claimed a silver medal on Saturday, finished second in the Lightweight Women's Single Sculls A final, with a time of 08:25.15.
Skibbereen rower Heaphy faced tough competition but managed to edge ahead of Italian rower Federica Cesarini, taking second place to secure a spot the podium with China taking the gold.
"It was a hard race with tough conditions, but I stuck to my race plan," Heaphy said afterwards. "The Irish team has had a great regatta so far, so I took a lot of confidence from that and I'm really pleased with my result.''
Finally figured out this rowing, Fairly chuffed with my Silver Medal at World Cup 2 in Lucerne. Excited to see what more I gain in the coming months ahead of the World Championships ☘️☘️ pic.twitter.com/EM1sE0XZBV

— lydiaheaphy (@HeaphyLydia) May 24, 2021
Sanita Puspure won a Bronze medal as she raced in the Women's Single Sculls A Final, coming third with a time of 07:30.02.
It was an exciting clash as the final pitched World Champion Puspure against the European Champion Hanna Prakhatsen of Russia, who won European gold recently at the event. And this was the clash we'd all been waiting for, with an Olympics looming.
At the 1000m mark the Russian took over the lead, followed by USA and Ireland in third. At the 1500m it remained the same, and in the final 500m the Russian controlled her lead and won gold, followed by Kara Kohler of USA in silver and Puspure in third.
Sanita Puspure told World Rowing: "I gave it my best. I know I will be behind the whole team in terms of my form. It was a tough race, and I didn't necessarily expect to be on the podium, but it was really exciting to race."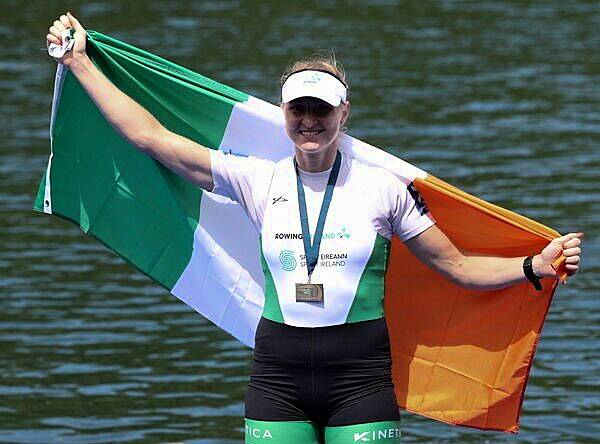 Tara Hanlon and Claire Feerick also competed in the Women's Pair A Final and placed fifth with a final time of 07:29.89. They faced crews from Spain, Romania, Chile, and the Czech Republic.
Chair of Rowing Ireland's High-Performance Committee, Neville Maxwell, said, "Overall we are very happy with the results of the Irish Team over the weekend in Lucerne. To come away with so many crews in A final and five medals is a considerable achievement.
The group is now looking forward to having a quick rest and getting ready for the Tokyo Olympics, where further improvements will be made. We are delighted with the weekend, and Irish Rowing is in a good place."
Subscribe to Her Sport's YouTube channel for more videos, follow us on Instagram, like us on Facebook or follow us on Twitter for the latest sporting news and content.