It's a case of being just a hop, skip and a jump away from Olympic qualification for Carolyn Hayes, or rather a swim, cycle and 10km run for the Limerick woman.
After her second place podium at the Triathlon World Cup in Portugal on Sunday, the 33-year-old has boosted her hopes of getting a ticket to Tokyo as she finished just 12 seconds behind double Olympic medallist Nicola Spirig of Switzerland, with only a handful of races left in the qualifying period.
The achievement also marks the first time an Irish woman has reached podium position in the World Cup since 2013, where Aileen Reid claimed a silver medal in London.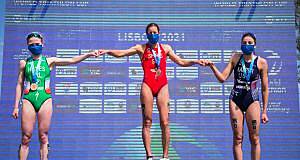 In the mix from the word go with a strong swim amongst choppy waters, Hayes also displayed strong dismount ability from the bike and went into the run leading from the front.
Having been 20 seconds ahead of the field at one stage with her unbelievable showing, the Irish athlete was surpassed by triathlon legend Spirig in the final kilometre who ultimately won the race with a time of 1:59:05.
It was a breakthrough appearance nonetheless in an Olympic year for Carolyn Hayes, who also made history post the athletic affair on the global broadcast, speaking as gaeilge to the World Triathlon feed, thanking her friends, family and coaches!
She also remarked on just how she conducted such an imposing spectacle, citing that she "worked really hard like everyone throughout the last year and half."
"I just want to go to the Olympics, I hope it's enough"⁰⁰

Carolyn Hayes on finishing ? at today's @worldtriathlon Lisbon WC…what a result!!?☘️#TeamIreland #LisbonWC @1cmhayes @TeamIreland @sportireland @RTEsport @IndoSport @IrishTimesSport pic.twitter.com/dcFDwzJ1RS
— Triathlon Ireland (@tri_ireland) May 23, 2021
"I am very confident on the bike so knew if I stayed and it came down to a running race that I would be okay. I think everyone is racing thinking, 'I want to go to the Olympics' so you just have to keep digging in and I was just so determined" she said.
"I'm a bit pissed that I lost it on the last lap but there are worse people to come second to."
"I just want to go to the Olympics, I hope it's enough," said Hayes.