Imagine travelling alone to compete at the highest level for your country, staying in crappy hotels and asking friends on other national teams for help. That was Mairi Kerin's life for almost four years as the only Irish karateka competing in the tough Premier Leagues.
An Olympic karate qualification event in May should have topped off her efforts. She was fit, strong and ready. Then came COVID19.
She says: "My body composition was the best ever, I was super strong and felt great in training but as with many others, the first thing to go was the access to the gym. I've spent the last ten weeks working and training at home. It's been tough. I have found myself talking to myself as if I was one of my coaches."
Home is in England where she is taking a PhD in mechanical engineering at the University of Birmingham having quit her job to return to study. Living in England has made being part of the Irish squad complicated, but she's determined to stick with the plan. And luckily she has the university karate team too to keep her sane.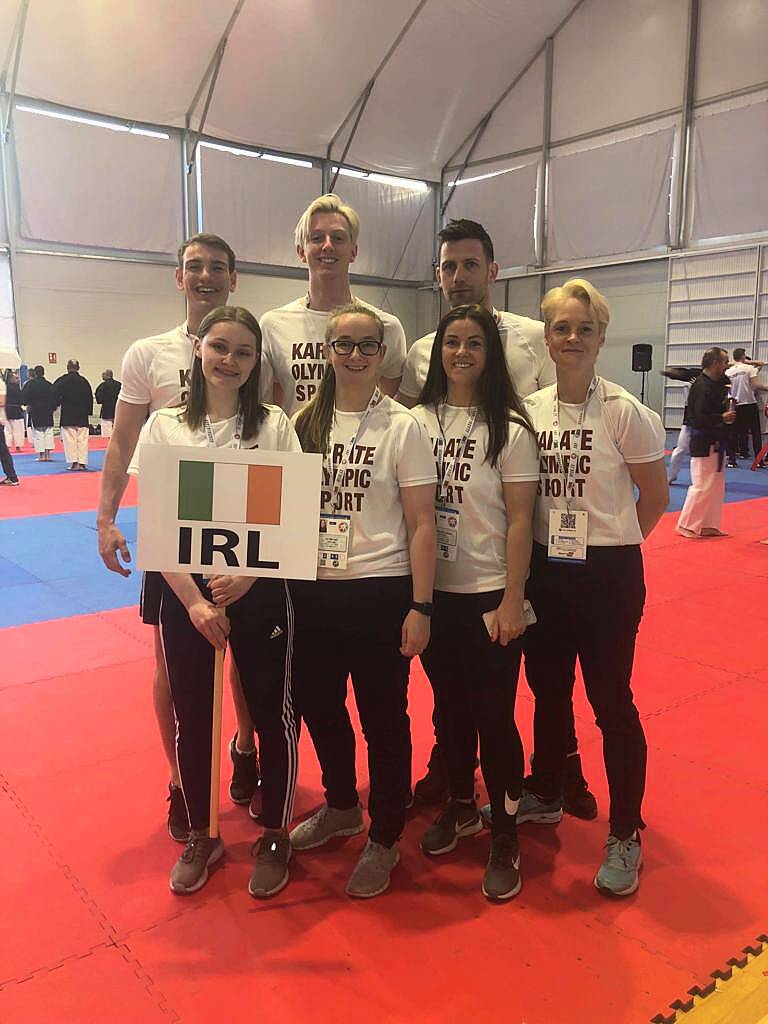 National coach Paul Brennan invited her on board the Irish squad in 2013. "I really enjoyed the squad feel, there was such a buzz, they worked hard but had fun too. I felt like I had really found a second family! These guys gave me a huge leg up into a sport and a world I didn't know existed," she says.
Her highest ranking was 61st in the world. This includes coming 11th in the World Championships and 7th in the Europeans. This all turned out to be quite important for her Olympic dreams.
Tokyo2020 is the first time Karate is on the Olympic programme, so there was a seismic shift in how international tournaments are run. And in how athletes could earn ranking points. Suddenly, the Premier League was only open to the Top 100 athletes in each weight division.
"I was the only one representing Ireland eligible for the Premier Leagues for almost four years. It has been very lonely, and it has cost me far more than I would want to admit too! But as the only one with the opportunity I felt it was my duty to pursue it," she says now.
She talks about her "lousy accommodation" and asking friends to help her get ready at international events.
Maybe that's why Brennan noticed her enthusiasm for the squad set-up. He says: "Mairi is very dedicated and travelled to every squad training since she joined. She's a great team member and bonded well with everyone. She said how she felt part of the group very quickly."
For now all of that is on hiatus.
Mairi says: "I am trying to keep the training ticking over. Retain a base fitness, allow a bad shoulder and ankle that I have been carrying for around 12 months to recover, and really get my head down into my work."
The big winner here is her PhD. She jokes her supervisor is happy as he was not impressed with all the travel and training needed for Karate.
She also needs time to restructure her finances so 2021 in Tokyo is a realistic option. She's not yet clear how this will work for her, but the World Karate Federation have laid out some new dates so planning needs to start.
Combing a PhD with top level sport does teach you how to plan at least, she says: "I developed an efficient homelife that most people will not understand. That involves having a huge plan and sticking to it, even down to what meals I have and when, what colour underwear I wore on what days to optimise the laundry."
Talking about the changes in Karate since it became an Olympic sport, she says the pressure of competition has changed how people train. She's looking forward to pitting herself against top athletes, and says:
"If not for the Olympic focus, far fewer karate-ka would be treating their training as a science as we do. As an engineer I find this very interesting. I can use the science I'm learning and test the ideas on my own body like a tested with the help of my support team."