Debut's do not come much better than Ailish Considine's first season in the AFL Women's (AFLW) Aussie Rules football league. Wearing the black, red and yellow of the Adelaide Crows, Considine helped her side complete an unbeaten season which saw them lift the AFLW title in front of 53,034 fans. Two years on, the Clare woman is set to return to Adelaide for her third season at the club.
Considine is a former dual-star who vice-captained Clare ladies football intermediate squad and represented Clare camogie for five years. Her journey into Australian football began in 2017 and has taken to the sport like duck to water - ironically, Ducky is a family nickname of hers.
With the outbreak of Covid-19 bringing an abrupt and premature end to the 2020 ALFW season, Considine is now chomping at the bit to get back. With all her focus and attention on the new AFLW season, she will not feature for Clare in the upcoming championship this year.
"My time with Clare football has been great and obviously it's close to my heart, but I think at this stage of my life and career, I think Australian football is where I want to focus on and work towards and see how much I can improve and get out of that," said Considine.
"I'm quite happy at Adelaide and would hope to be there for the foreseeable future."
The 28-year-old has returned back to West Clare for the time being and her journey back home in March was frantic to say the least. The combination of borders closing, cancelled flights and bag-handlers testing positive for the virus made the trip home a nightmare.
Adjusting to life in West Clare after the bustling city life of Adelaide has been difficult. Her Australian visa forbids any part-time work so Considine spent most of her own time outside of training hours at the club, doing extra kicking practice or brushing up on her understanding of the game. With lockdown restrictions, this was hard to replicate.
"It was such a change from being full on training over every single day, everything we did revolved around sport and playing and training and getting your body right and getting yourself right, and then all of a sudden, all that's taken away," she said. "You're questioning what's your purpose in life now."
It's not only training and her squad which she misses, it has been four months since Considine has seen her girlfriend and teammate Anne Hatchard, who like many couples are dealing with long distance relationships during the uncertainty of the virus.
"I think we've probably spent nearly half the time apart that we've been together...between the season and off-season. And her not being able to come over this year is another thing that kind of puts Covid into reality really."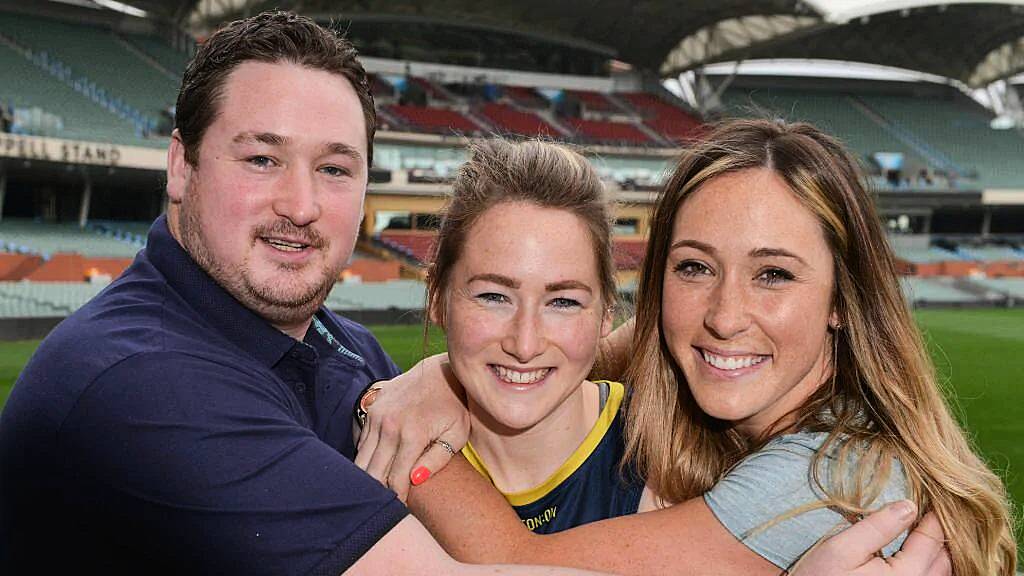 Ailish Considine is not the only high-performance athlete in the family. Her sister Eimear is a fully-fledged Irish rugby international and plays for Munster. The pair grew up playing all kinds of sport, Gaelic football, camogie, soccer, basketball, athletics, volleyball and swimming. You name it, they played it.
"Eimear was the athletic one and I was the skilful one," she said. The sisters played county football and camogie for Clare right up to senior level. When Eimear moved to Dublin, the commute back home was difficult and she found a love for rugby.
There was one sport growing up that Ailish Considine never quite got her hands on, the sport that is Australian football. While she knew of the sport through the likes of Cora Staunton making the move down-under, it was not until late 2017 where she was introduced properly.
In November 2017, Considine joined the West Clare Waves after her Kilmihil ladies football teammate, Roise Currane, was recruiting players for a new AFL women's tournament, set up by her brother Mike Currane. In the first blitz day, Considine scored 17 goals and quickly progressed to play for the Irish Banshees.
Just months into a new sport and still not entirely sure what all the rules were, her sister forwarded on her an email about the CrossCoders programme. CrossCoders is a global talent agency and sporting education program that allows top female athletes a once in a lifetime opportunity to become a professional in Australian sport.
Considine applied and soon found herself on a plane to Melbourne to take part in an international camp where she was involved in trial matches and met with AFLW clubs. The Crows were extremely impressed with Considine and she soon learned that she will be returning to Australia to represent the Adelaide Crows.
The gravity of her decision to move did not hit her until she was actually on the plane. "I was completely uplifting, out of a place, out of home, away from family, away from Gaelic football, everything that I knew so well. When I signed for Adelaide, I didn't even know where Adelaide was," she said. "I'm coming over playing a brand-new sport that I don't know anything about. I don't even know the rules yet."
Considine was welcomed into the club from the start, and she feels she can always rely on them now - perhaps this explains why she has settled in so well. "The girls all genuinely care about one another on and off the field."
In her first season, Considine became the first Irish woman and non-Australian to win the AFLW Championship, even bagging a goal in the Grand Final in front of a packed Adelaide Oval of 53,000.
"It definitely was the last thing I ever expected...Like I didn't even expect to get a single game, going out there," she said. "The team just seemed to get better and better and gel even more and everything just started to click into place. Coming towards the last few rounds, we were really performing very well and... beating really good teams comfortably."
"I had never experienced a full stadium for a women's event. It was crazy. To look up to the top tier of the stadium and to see it full of people, you can't imagine. You can't picture it."
"I never thought I'd see the day where I'd be on a pitch and looking around and seeing a full stadium."
Looking back now, it feels like a dream. "My family had flown over for the weekend and for them to be there and experience it. And then being fortunate enough to kick a goal in the final, it was crazy, absolutely crazy," she said. "There's nothing I would change about that day at all. It was just absolutely incredible."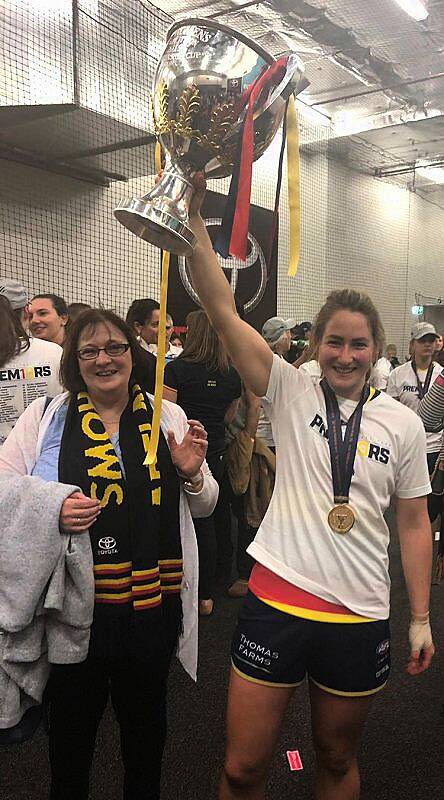 Later that year back home, Ailish and Eimear won the Clare Senior Ladies Football Championship with Kilmihil. It came after much heartbreak for the club, who'd been trying to win the title since 2009 and had suffered four successive final defeats since 2015.
"Kilmihil football is like the biggest love/hate relationship because it's your club, you love it and you do it because you love football, you love your parish, you love your teammates. But when you consistently lose, you hate it. You hate the feeling. It's so hard to take. It's one of the bitterest pills to swallow, losing the county championship and feeling like you're letting your whole parish down."
Those outside of the panel and management thought it would be another defeat for the side, but Kilmihil had a "change of heart." "Normally, we'd go out and try and play against them with how much we hated them.
"That year we took a different approach and said "We love our parish, we love our club. Let's just do it for ourselves, for once. Let's not think about how much we hate the opposition.""
In the end, they beat the Banner Ladies by 3-12 to 0-10, stopping them from winning their ninth championship in a row. "It's everything that I'd dreamed of," she said. "I'll be forever grateful for Kilmihil football now, I'll definitely never forget it."
Considine believes the AFLW is an attractive prospect to players, and says counties should support players who make the move. "The GAA can be quite lucrative for a male figure. As a female, we get really the bare minimum. At the bare minimum, I mean the very basics. Maybe you'll get some gear for the year, maybe you might have one training base.
"What we get (in the AFLW) is pretty similar to what the men would get here in the GAA. For any female athlete to get a taste of that at this moment in time, it would be selfish of any management or county to stop them from doing that."
It's just a waiting game now for Considine until she can return to Adelaide. All going well, she will be back out in Adelaide for the start of pre-season in November.