It was four years ago when an agonising neck strain before a pre-season game turned into a horrific injury for Tipperary's Edith Carroll.
She had been playing for Tipperary for over a decade and enjoying notable success, having won an All-Ireland in her first season back in 2008. As any athlete, especially one with her experience knows, burpees, hill sprints and ice-cold weather are probably the most unpleasant part of pre-season work – but it had no impact on her injury.
In fact, it was Carroll's job that almost cost her place on the team. She is an Irish and PE teacher in Rockwell College, a boarding school down south of the county. A job that involves lots of being on your feet and moving around. Her neck began to feel the pressure.
"The previous summer before we went back, I was correcting papers and I was stooped over a desk for hours on end every day. So many papers had to get done. It was a build-up of that."
Carroll still remembers the morning of an ill-fated pre-season challenge match with Westmeath. She was about to leave the house when she turned suddenly and sprained her neck. She got a rub from the physio and didn't think much of it, but it was worse than suspected, as she ended up having to come off in the game.
"The pain I experienced; I can't describe it. One of my discs was leaning on a nerve. I was getting pain all down my left arm first, and then on my right side. It was more of a chronic pain and I was losing sleep with it. It was one of the most horrific things I have been through."
Before her injury and subsequent recovery, Carroll was a famed globe-trotter, often heading to Kenya or Ethiopia to help in poverted areas.
She began her voluntary work when she travelled to South America as part of a joint initiative between UL and NUIG. She spent five weeks helping to build houses in Brazil in 2011. The next expedition took her to Mozambique.
"It would really open your eyes. The biggest thing was probably the work that goes on and the things people are doing all the time. A lot of what we were doing, even though we were doing manual labour, it just opened your eyes to the work that is actually being done.''
But being injured brought a halt to the volunteering side of things. It meant no flights abroad or even running down the left-wing anymore.
She fought her way back from injury and eventually made it onto the pitch again.
Carroll was back in time for the 2019 season with her native club Galtee Rovers/St Pecauns. They had a stellar season and were eagerly looking towards a Munster final victory in October that year. However, it wasn't to be as Cork's Donoughmore arose as the winners.
She got the call to play with Tipperary earlier this year as part of the new set-up lead by Declan Carr.
"Declan is really professional in the way that he goes about things. He has ideas in his head. We just need to buy into them. He has a certain respect for hard work and is going to have a great influence on this group of players."
Last weekend, she made her debut for Tipp once again in their opening Lidl National Football League against Cork. The Rebels were on top form winning by 3-15 to 2-6 at Páirc Uí Chaoimh.
Despite the heavy defeat, her debut felt like a win at last for Carroll. She was back doing what she loves most. It could have been a worrying time, especially after a dangerous injury, but that passion matters more to her.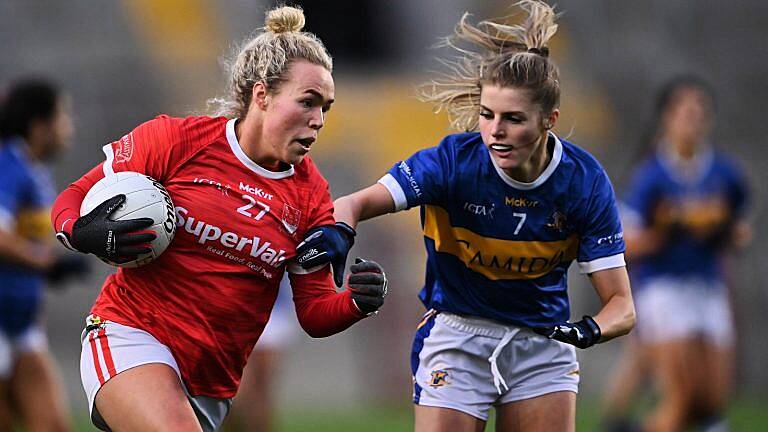 ''There are only a handful of girls who were there when I played last. I had so many nice messages of support and people saying it would be great to see me back. There was something liberating about having this chance. I said this is an opportunity.
At one stage I never thought I would be able to play again. To have the opportunity to line out in blue and gold and stand in Páirc Uí Chaoimh and sing the national anthem. It's something I had longed for.
If you are not going to enjoy it now, what was it all for?''
Tipperary are still without AFLW stars Orla O'Dwyer and Aisling McCarthy but they will be coming back with rakes of experience, having being key players in their respective Australian teams.
"It will be great to have the girls rejoin the panel. They are constantly in touch and we are obviously very proud of what they have achieved. It will be brilliant to have them back in, just in terms of the experience they have.''
Having lost so heavily to Cork, it will be an uphill struggle for Tipperary as they face a tough Division 1B campaign that also contains reigning All-Ireland champions Dublin. But for now, the focus is on their next game against Waterford.
It is going to be a big challenge. Even coming up through the ranks there has always been a rivalry between Tipp and Waterford. But I don't think there is any fear. That is why I love being involved in this panel. They are so young, there isn't any fear there. Whatever they will come up against they are up for the challenge. We are in a good position and really looking forward to it."
Tipperary will Play Waterford on Saturday 29th May, with throw-in set for 2pm. You can watch the game on live on TG4 or on YouTube, featured on the Ladies' Football channel.