In light of the Covid-19 outbreak, the Ladies Gaelic Football Association (LGFA) made the decision to suspend all activity at club, inter-county and educational levels. On 24 March, the organisation released a statement acknowledging that the LGFA management committee have decided to cancel all competitions.
Of those affected include Moate CS and Loreto secondary school Clonmel, who were due to play Senior A PPS All-Ireland final.
The decision has caused major disappointment and frustration in the football community as once again it appears that women's sport is being left behind.
On July 17, the GAA facilitated the re-scheduling of the Leinster Schools SF 'A' boy's final between St Joseph's Rochfortbridge and Naas CBS. Yet no such action is being taken by the LGFA to allow these budding young stars the opportunity to fulfil their dreams.
Both Moate CS and Loreto Clonlmel have written several letters to the LGFA asking for the match to be played but their requests have fallen upon deaf ears.
In a bid to raise further awareness and put pressure on the LGFA, the Loreto Clonmel footballers released the following statement: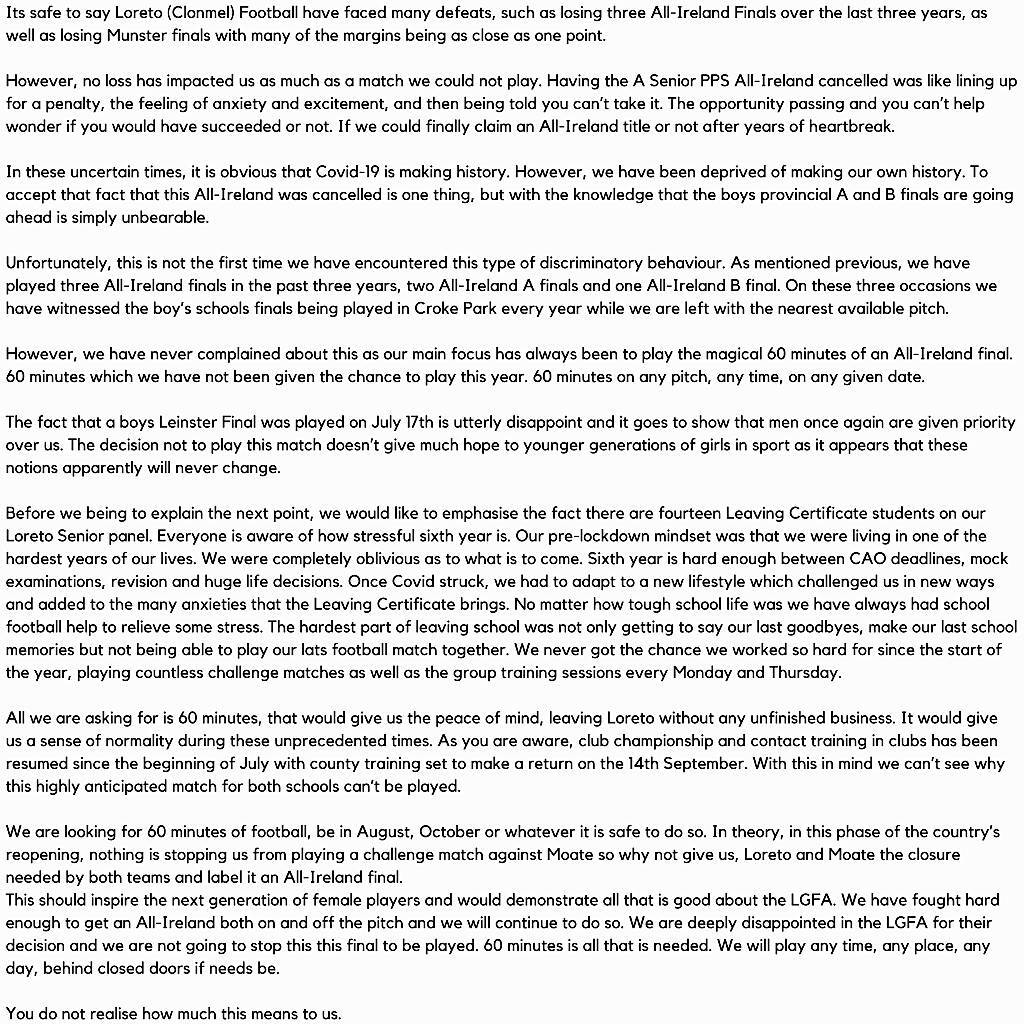 It's safe to say Loreto (Clonmel) football have faced many defeats, such as losing three All-Ireland Finals over the last three years, as well as losing Munster finals with many of the margins being as close as one point.
However, no loss has impacted us as much as a match we could not play. Having the A Senior PPS All-Ireland cancelled was like lining up for a penalty, the feeling of anxiety and excitement, and then being told you can't take it. The opportunity passing and you can't help wonder if you would have succeeded or not. If we could finally claim an All-Ireland title or not after years of heartbreak.
In these uncertain times, it is obvious that Covid-19 is making history. However, we have been deprived of making our own history. To accept that fact that this All-Ireland was cancelled is one thing, but with the knowledge that the boys provincial A and B finals are going ahead is simply unbearable.
Unfortunately, this is not the first time we have encountered this type of discriminatory behaviour. As mentioned previous, we have played three All-Ireland finals in the past three years, two All-Ireland A finals and one All-Ireland B Final.
On these three occasions we have witnessed the boy's schools finals being played in Croke Park every year while we are left with the nearest available pitch.
However, we have never complained about this as our main focus has always been to play the magical 60 minutes of an All-Ireland final. 60 minutes which we have not been given the chance to play this year. 60 minutes on any pitch, any time, on any given date.
The fact that a boys Leinster Final was played on July 17th is utterly disappoint and it goes to show that men once again are given priority over us. The decision not to play this match doesn't give much hope to younger generations of girls in sport as it appears that these notions apparently will never change.
Before we being to explain the next point, we would like to emphasise the fact there are fourteen Leaving Certificate students on our Loreto Senior panel. Everyone is aware of how stressful sixth year is. Our pre lockdown mindset was that we were living in one of the hardest years of our lives. We were completely oblivious as to what is to come. Sixth year is hard enough between CAO deadlines, mock examinations, revision and huge life decisions.
Once Covid struck, we had to adapt to a new lifestyle which challenged us in new ways and added to the many anxieties that the Leaving Certificate brings. No matter how tough school life was we have always had school football help to relieve some stress. The hardest part of leaving school was not only getting to say our last goodbyes, make our last school memories but not being able to play our lats football match together. We never got the chance we worked so hard for since the start of the year, playing countless challenge matches as well as the group training sessions every Monday and Thursday.
All we are asking for is 60 minutes, that would give us the peace of mind, leaving Loreto without any unfinished business. It would give us a sense of normality during these unprecedented times.
As you are aware, club championship and contact training in clubs has been resumed since the beginning of July with county training set to make a return on the 14th September. With this in mind we can't see why this highly anticipated match for both schools can't be played.
We are looking for 60 minutes of football, be in August, October or whatever it is safe to do so.
In theory, in this phase of the country's reopening, nothing is stopping us from playing a challenge match against Moate so why not give us, Loreto and Moate the closure needed by both teams and label it an All-Ireland final.
This should inspire the next generation of female players and would demonstrate all that is good about the LGFA.
We have fought hard enough to get an All-Ireland both on and off the pitch and we will continue to do so. We are deeply disappointed in the LGFA for their decision and we are not going to stop this this final to be played.
60 minutes is all that is needed. We will play any time, any place, any day, behind closed doors if needs be.
You do not realise how much this means to us.