John Locke Park. 2pm. The Cats begin their journey to retain the All-Ireland title they worked ever so hard for to break the tradition of falling at the final hurdle for five of the six years prior.
Understandably there were tears upon the final whistle in Croke Park in 2020, where the match concluded 1-14 to 1-11 in Kilkenny's favour and so saw the influx of celebrations and press photography.
The most iconic of which captured was amongst the jubilation of the players on the pitch, the bittersweet moment it was for injured Katie Power.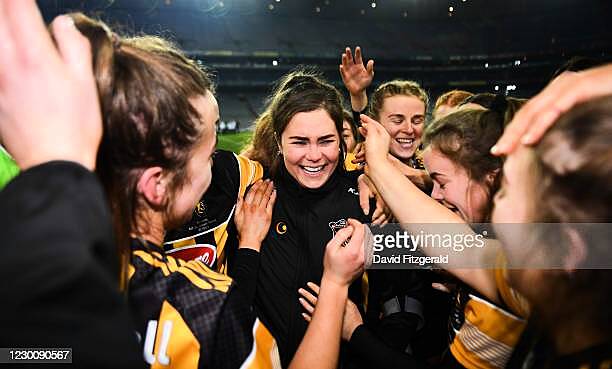 An inflicted knee injury ruled her out of a chunk of last year's championship and will continue to resign her to the sidelines at least for the opening of 2021's fixtures.
"I'm looking forward to this year. It can only get better for me personally. I'm back on grass now doing a bit of running. I'm not back with collective training but I'm there when the girls are training. Please god now I'll get back to some matches hopefully during the summer anyways" she says.
"It's so much easier to play the matches than watch like it was really tough… Now I have an appreciation for management or even our parents looking on because there's nothing you can do like you're only hoping for the best and wishing them well and you know it's definitely easier to be out playing but as I said like but hopefully now, I'll get the chance to do that this year."
Although the 30-year-old admits she'd be "killed" for saying so, growing up she always admired the recently retired Cork legend Gemma O'Connor.
"She could play anywhere and she was an absolute powerhouse. She definitely drove standards, not just in Cork, but I think nationally across the game. Everyone was looking at how strong she was, and I know she was in the army, but saying we have to play catch up and we needed to be as strong as her" she says.
Also idolised however was teammate Anne Dalton who played her final game for Kilkenny last year and hung up the boots in stellar fashion.
When I grow up I want to be Anne Dalton ?? pic.twitter.com/6dURKKkaX4

— Katie Power (@PowerhourKatie) January 13, 2021
"What a way for her to go out. That's actually, that's dreamy now like" says the Piltown player.
"I think for younger players coming up now, they'll see the likes of Anne Dalton, she is without a doubt the best camogie player I've ever seen… She had an air of confidence that I used to always be jealous of. She made us mentally stronger over the years because of her mental strength and that is something we are grateful she has left with us."
"I suppose it's kind of exciting as well, to be honest that she's no longer there to dig us out of the hole now like. Like it's, it's up to someone else to step up."
While this year's amber and black squad has a "great mix" of youth and experience, Katie is assured the competition is as high as ever for places and that Brian Dowling takes no prisoners when it comes to effort exuded as "he genuinely doesn't care who you are, if you're not playing well at training, you're not going to get your game."
Dalton's exit leaves a vacant spot for another player to make their name in the camogie scene, but as Power explains "there's no point in any of us saying that we have to fill her boots because I don't think that they will be filled, but it's about trying to do something different and about the rest of us stepping up and you know."
She's a fantastic player, a great friend of mine but life goes on I suppose. And you know, she's given so much to the game to, to all of us and, you know, best of luck to her" she says.
On her own continuation in the face of adversity the four time All Star is confident that "baby steps are better than no steps" on the road to recovery but she has no notion of giving up yet.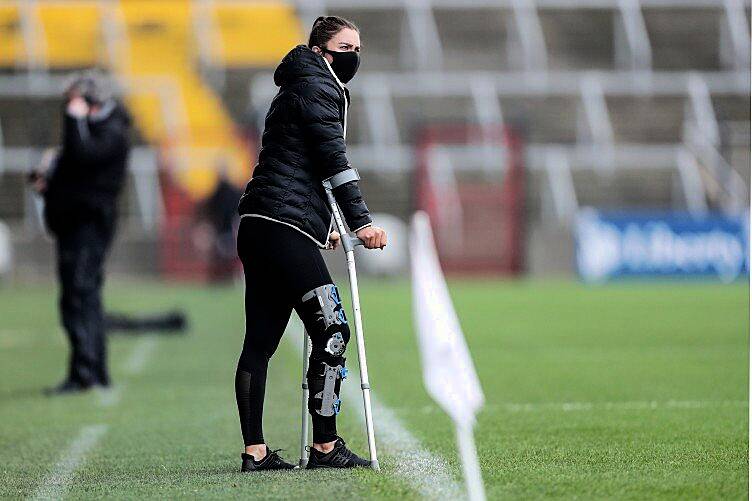 "Why not do it for as long as I can because when it's over, then it's over. And I don't want to look back with any regrets and I don't want to leave any one injury define me" she says.
"I don't want to be the person that people say 'she had to retire her because she got really bad injuries and isn't that unlucky', but I want to come back and see if I can."
"God knows that mightn't be up to it when I come back, but I want to try and put everything into it because I'm the kind of person, if I don't put one hundred percent into it, you know, I feel like I failed."
Determined to change the tides of camogie's perception with Littlewoods in their campaign which is highlighting the need for development , there is no doubt this trailblazer ever could.
Kilkenny take on Dublin @2pm today, Saturday May 15th in John Locke Park. The game is to be streamed live on Youtube.